The city government will deliver 5,000 pieces of food packs to families affected by the eruption of Taal Volcano in Batangas.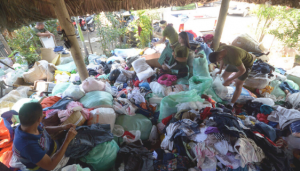 The city, through the Task Force Davao (TFD), is currently accepting donations from different sectors and people who may want to help and give aid to those displaced families.
TFD commander Col. Consolito Yecla, whose unit has been tasked in distributing relief aids, said they are now preparing food packs for the families who have settled in temporary shelters since Sunday.
Yecla said residents who wanted to help may drop donations at the TFD's headquarters located at the Sta. Ana Wharf Compound.
He said his troops are targeting to reach evacuation centers by Jan. 17, Friday, or as soon as possible, to deliver the food packs, which include rice and canned goods.
The targeted areas in Batangas are Santo Tomas, Tanauan and Calaca.
"While it may take days to reach its destination since the task group has to travel the winding roads of the three main islands and has to cross the seas twice, the Task Force Oplan Tabang organized by City Mayor Inday Sara Duterte hopes to ease the suffering of the evacuees," he said.
Like many others, Yecla also lamented the difficult condition experienced by the displaced families, recalling the situation of the victims following the series of calamities that jolted Davao Region.
"That is the reason why at the first sign of the disaster, Mayor Inday immediately organized and will send relief goods on behalf of the people of Davao," he said.
Taal Volcano, the second most active volcano in the country, erupted at around 1 p.m. Sunday.
A phreatic eruption spewed ash up to 14 kilometers high with the ashfall reaching Calabarzon, Metro Manila, and parts of Southern Luzon. A phreatic eruption occurs when magma heats ground water or surface water.
The Philippine authorities have urged several people residing around the scope of the Taal Volcano to evacuate immediately, as eruptions are highly expected.
The Philippine Institute of Volcanology and Seismology (Phivolcs) declared the alert level to four, meaning an "explosive eruption" could happen in the coming hours or days. Its highest alert level is five, indicating an eruption is taking place.
Its last recorded eruption, which was also phreatic in nature, was some 43 years ago.