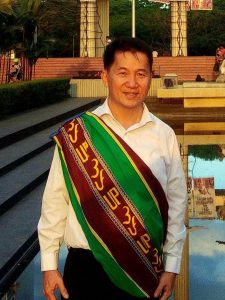 Davao Chong Hua (formerly Davao Central) High School announced the appointment of their new school director, Melchor Te (陳衍福), who began his term last Jan. 6.
Te has 30 years of experience in teaching and administration work in Chiang Kai Shek College in Manila, having served as a college instructor, secretary to the college president, assistant college registrar, and college registrar.
His stint as an instructor in Chiang Kai Shek College is highlighted with his being ranked number 1 in teaching effectiveness among the new faculty, and as chairman of the CKSC Administrative Manual for more than 12 years.
Te also brings experience in engagement with schools and in community volunteer work. He has traveled to all 82 provinces in the Philippines and visited schools to discuss with fellow educators on their school systems.
In his last visit to Pantar, Lanao del Norte in August 2017, he mobilized support from friends to extend food relief for elementary pupils from Marawi who are temporarily sheltered in Pantar following the Marawi siege. He has also volunteered in relief missions to calamity areas in Bohol, Cebu, Leyte, Eastern Samar, Cagayan Valley, and Isabela.
Te holds a Master of Education degree major in Educational Administration at the University of the Philippines Diliman with a final general weighted average of 1.15. He is currently finishing his Doctor of Philosophy in Education, major in Educational Administration at the same university. Last June 2019, he was a recipient of the University Scholarship Award for his scholastic grade garnering a General Weighted Average of 1.07.
Te's academic excellence and leadership began in his elementary years in Ex-Cowhm Elementary School (丹心小學) where he graduated as valedictorian in the English Instruction and salutatorian in the Chinese Instruction. He was a full academic scholar in Chiang Kai Shek High School, and graduated in Bachelor of Science in Commerce majoring in Business Administration at the University of Santo Tomas.
He has been consistently elected as class president from his elementary years until his doctorate class. He has served as president of his high school alumni batch for 15 years and is involved in various organizations such as the Chinese Filipino organization COM-ACH (Community Achievers), the Pax Romana, and Japan-Taiwan Exchange Association.
Te hopes to bring these experiences and passion to Davao Chong Hua High School. He plans to focus on six aspects:
1) Improving the standard of education of the English Instruction, with emphasis in science and mathematics,
2) Raising appreciation in Chinese language and cultural heritage, as well as on the vast potential of Davao City and other parts of Mindanao,
3) Fostering better camaraderie and closeness with the teachers and staff by enhancing on their professional growth and reiterating their mission and calling,
4) Returning the importance of play and sports on students to veer them away from gadgets that compete with their time and space,
5) Conceptualizing programs and activities to make the students well-rounded, not only academically but with other aspects of student life, such as greater awareness on global warming, cultural diversity, gender equality, globalization, etc.
6) Preparing the students for the future in nation-building, placing great importance on virtues, excellence and service, which are the very core values of Davao Chong Hua High School.