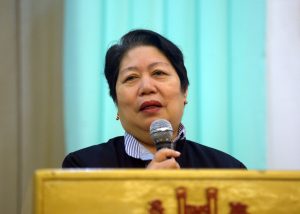 A bigger challenge of sustaining peace faces Task Force Peace 911 after its efforts had resulted in clearing all 13 barangays in Paquibato District and Barangay Dominga, Calinan District of communist insurgency, a peace adviser said Thursday.
Task Force Peace 911 is the body tasked to implement a "comprehensive peace-building program" for conflict-affected areas of the city.
Irene Santiago, peace adviser to Mayor Sara Duterte, said during the Department of Interior and Local Government Seminar on Local Peacebuilding Forum on Positive Peace at the Grand Men Seng Hotel here Thursday that the economic, political and social causes of insurgency have remained even though those barangays have already been cleared of insurgents.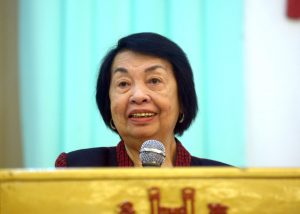 "The challenge now is really, how do we sustain peace because the causes of all the insurgencies are still there. That will not go away in only nine months — economic, political, and social issues are we need to address now," she said.
Santiago, who chaired the government implementing peace panel in the peace process with the Moro Islamic Liberation Front, said local peace efforts have focused on building the "eight pillars of positive peace" instead of undertaking projects in conflict-affected communities to attain enduring peace.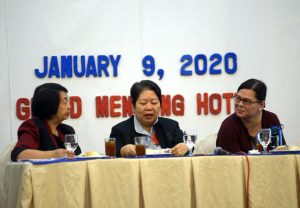 "Before it was project after project after project, and when the project is over already, what you have is nothing," she said.
The eight pillars of positive peace are well functioning government, low levels of corruption, acceptance of the rights of others, good relations between neighbors, sound business environment, high levels of human capital, equitable distribution of resources and free flow of information, she said.
Once these pillars are in place, Santiago said, "no matter what happens, the society is a peaceful one and it is a resilient one."
"That's why, we are shifting our attention from this project-based beginning-ending nothing-happens-type of process to building the eight pillars of positive peace," she said.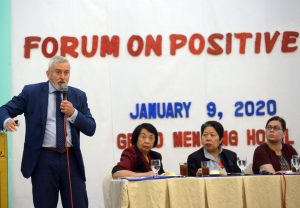 Peace 911 has been working to capacitate the Lumad (indigenous people) in Paquibato District since its inception in May 2018, she said.
Efforts had been undertaken to develop a "sense of ownership and stewardship" of their ancestral domain, Santiago said.
She added women were taught organic gardening to combat hunger.
"When you go into social change, you have to change attitudes, structures and institutions," she said. "We are trying to help them strengthen that decision-making structure, and also how do they manage their resources."
She acknowledged the need to address "fear and hunger" in conflict-hit areas.
She said the Lumad were afraid of the military and the New People's Army.
"They were afraid not only of military but also afraid of the New People's Army. So, the military had to do its own community support programs in order to build trust. That first few months was really about building trust, that the government, in fact, was coming in to restore state legitimacy," she said.
To build trust, she said it helps when the government is making its presence felt there.
She added government agencies have been conducting caravan to deliver basic services in conflict areas.
"Fear was not really erased overnight. It was something that has to do with trust, and you know trust-building takes a little time," she said. (Antonio L. Colina IV/MindaNews)
RA coina/Mindanews