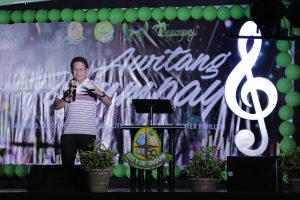 Tagum City—In accordance to its moniker as the Music Capital of the South, the most sought after solo singing competition in the city of Tagum had been made bigger and grander, now dubbed as Awitang Tagumpay.
Formerly known as Kantahan sa Tagum, Awitang Tagumpay was launched last January 5, 2020 at the Tagum City Cultural and Trade Center Pavilion with no less than Mayor Allan L. Rellon leading the ceremony.
The night was filled with vibrant music as former champions and resident judges of the singing contest, as well as voice students of the Music Makers program of the city government showcased various song renditions.
Awitang Tagumpay holds much larger cash prizes at stake for its weekly competitions; P2,000, P1,500, and P1,000 is guaranteed to the weekly champion, 1st and 2nd runners-up, respectively – an impressive upgrade from its last edition's P800, P600 and P400 weekly prizes. Consolation prizes worth P300 is also granted to all non-winners.
This newest edition of the competition features eight contenders per week and will run only in January and February this year as Grand Finals is slated on March 8 – in time for the celebration of the Musikahan sa Tagum Festival.
The competition, which is also open to non-Tagumenyo residents and features Children and Adult categories, will be held every Sunday starting on January 12, with all weekly champions competing in the grand finals.
Awitang Tagumpay is brought by the City Government of Tagum through the initiative of the City Music Management Office that is under the City Historical and Cultural Center Management Division. Drex Rafols/CIO Tagum