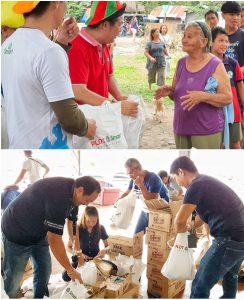 As their way of reaching out to communities affected by the magnitude 6.9 earthquake that hit Mindanao December 15, employees of PLDT and its wireless unit Smart Communications have initiated a relief distribution in Davao del Sur.
Shortly after receiving their Christmas bonuses, the employees pooled their personal donations to purchase relief goods for 200 families in the towns of Magsaysay, Matanao, and Padada
"Christmas is about giving. With the situation of our brothers and sisters in Mindanao, especially during this time, we should do our best to help and provide relief to them," said Smart national key accounts head Precy Katigbak.
Their efforts complement the relief work being undertaken by PLDT and Smart with the assistance of employee volunteers from the sales and network organizations.
"Even during trying times, the spirit of Christmas needs to be felt by everyone. We need to remind them that despite the problems they face, there will always be hope," added Jess Rubino, Smart area head for Northwest Mindanao network field services.
Apart from providing relief assistance, Smart also continues to provide communications support through Libreng Tawag stations at hard-hit areas. The relief and communications aid are part of PLDT-Smart's #SafePH program.