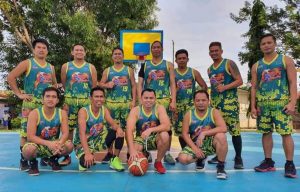 GJAPS Pirates and Lorejo Farms bagged second wins over separate foes in the ongoing Urara Fortys Basketball Club Season 4 held recent at the Uraya covered court.
GJAPS of Japs Sabio bested Ronnie Millomeda's SMB squad, 103-92 behind DJ Dasas and Bong Papelera who finished with 23 and 18 points, respectively. Sabio also added 22 baskets.
SMB got its first loss despite efforts from Ching Garcia and Kedlat who had 33 and 22 points, in that order.
Lorejo Farm of Glenn Lorejo also duplicated that feat after beating DC Construction of Don Orpeza, 70-68 anchored by Jason Laquesma and Roy Ociones who had 18 and 16 points.
DC Construction was led by Raul Constantino who had 16 and Opling Ayunan's 14 baskets.
UFBC 4th Season
Team Standing
Team Win Loss
GJAPS Pirates 2 0
Lorejo Mango Farm 2 0
SMB-Pombo 1 1
MDI Carwash 1 1
DC Constructions 0 2
Cuer Fitness Gym 0 2