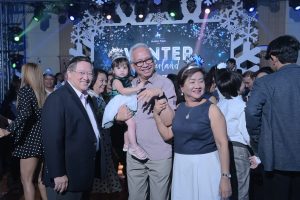 Marco Polo Davao bid 2019 farewell and welcomed the new year with loud and music-filled party as guests celebrated with a Winter Wonderland-themed party at the hotel's ballroom.
Guests feasted with culinary highlights prepared by Restaurants Bars and Events team lead by Executive Chef Alex Destriza and RBE Manager Rene Gargalo. Some of the crowd favorite were served at Café Marco and Lotus Court including the famous Prime Ribs, Roast Beef, Roasted Pork and other Filipino favourites. Cantonese dishes such as the traditional Peking duck and a wide variety of Dim Sum were likewise served at the Lotus Court.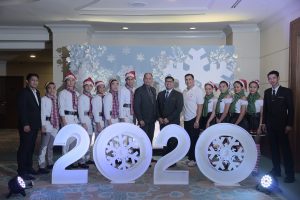 At the ballroom, guests started to dance and enjoyed the evening with the music of 8 Mile Band and epic spins of DJ Joshua Simbajon. Exciting prizes, including room accommodations in Marco Polo hotels together with different special gift certificates were given to the lucky guests during the raffle. At exactly 12 midnight, the ballroom was filled with loud sounds, party music and the traditional chef's parade.
"We are looking forward to a clear 20-20 vision for the coming year. Our team is confident that Marco Polo Davao's brand of service will still rise among our competitors and most importantly to all challenges that we will face in the coming months. This party is not just to welcome a new year but to celebrate with people who have been with us for the last 21 years and counting," said General Manger Colin Healy.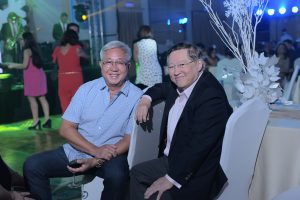 Marco Polo Davao's Winter Wonderland 2020 New Year's Eve countdown was made possible with partnership from Bluefairy Davao, San Miguel Brewery, Summit Water, Coca-Cola, and Forth & Tay Inc.