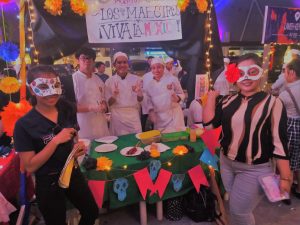 Cuisine du Marche, the annual Food Festival of the Joji Ilagan International Schools took place at the Matina Town Square on Dec. 2, 2019 during the first semester for students to showcase their talents in culinary and entrepreneurship skills. Aspiring chefs plan their own recipe and seek approval from their assigned chefs before they prepare their dish.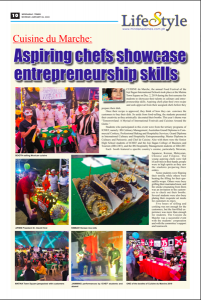 Once their recipe is approved, they think of how they can  convince the customers to buy their dish. So aside from food-selling, the students presented their creativity as they artistically  decorated their booths. This year's theme was "Tomorrowland: A Myriad of International Festivals and Cuisines Around the Globe."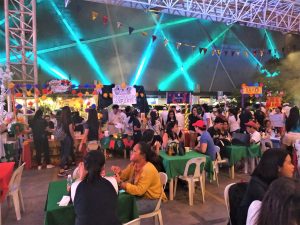 Students who participated in this event were from the tertiary programs of ICHEF, namely: BS Culinary Management; Australian Grand Diploma in Commercial Cookery, Professional Baking and Hospitality Services; Grand Diploma in International Culinary and Hospitality Entrepreneurship; Master Diploma in Culinary and Patisserie; and Chef de Cuisine. Also with them were the Senior High School students of ICHEF and the Joji Ilagan College of Business and Tourism (JIB-CBT), and the BS Hospitality Management students of JIB-CBT.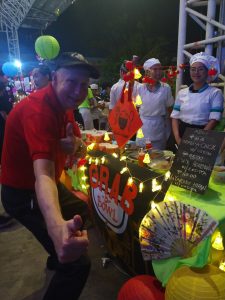 Each  booth featured a specific country's cuisine, particularly Mexican, Japanese, Korean, Malaysian, Chinese and Filipino. The young aspiring chefs were full of activities in their hands; people were in high spirits as they saw the students preparing their orders. Some students were flipping their tortilla while others were heating the filling for their quesadilla wraps. Others were busy grilling their marinated meat, and the smoke emanating from them was an invitation to the customers to check out their booths. Several students were also busy plating their exquisite set meals for customers to enjoy.
Five hours of selling and cooking was not enough for the customers, but the fun-filled experience was more than enough for students. The Cuisine du Marche was a successful event with the students' cooperation and with the committee's support and teamwork.