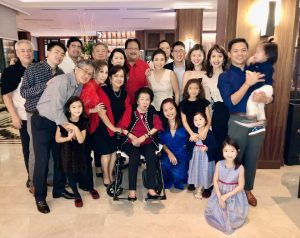 It was the first time, after so many years, that I suddenly found myself without an invitation to cover a hotel's New Year's Eve Party to welcome 2020. It was also the first time my neighbors, the prayerful Carmelite monjas, did not invite me to participate in their special mass for the New Year. So, when the Hon. Consul of Hungary in Mindanao, madame Mary Ann "Baby" Maceda-Montemayor invited me to join the Garcia-Montemayor clan in their New Year's Eve dinner and celebration, I readily agreed to be adopted for the night by Binggoy, Baby, and Marga Montemayor.
I was also looking forward to greeting the Garcia matriarch, tita Patria Garcia vda. de Montemayor, whom I haven't seen for a long time. In my Manila visit before Christmas, the family members of Mary Ann Magallanes vda. de Montemayor requested me to give their holiday season's greetings to tita Pat, and I promised them I would. And happily, I did.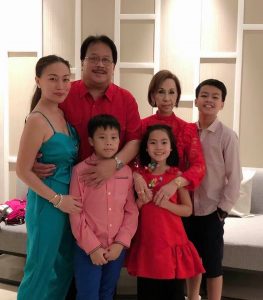 The venue was at Dusit Thani Davao's Benjarong Thai Restaurant and Bar. Philippine Tattler lists Benjarong as one of the top Thai restaurants in the Philippines. It was my first time to dine in Benjarong, Dusit International's signature Thai Restaurant, which promises to offer refined Thai cooking under the direction of French Executive Chef Jean Marc Vernon and certified Thai Chef Suthin Songmuang from Udon Thani, northeast Thailand. Chef Suthin Songmuang started cooking at the age of 16 with the strong culinary influence of his mother.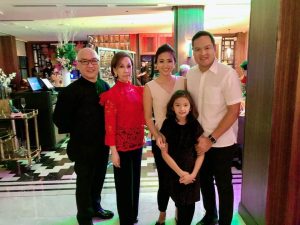 Dusit Thani Davao's General Manager, Christopher Wichlan, looked pretty much like a stiff aristocrat welcoming his guests led by the Garcia matriarch, tita Pat Garcia-Montemayor, who came accompanied by Binggoy and Baby Montemayor, Edgar and Etang Ang, and the Manila-based Nolet and Marila Revilla, and Joseph and Patrice Tan. Former Congressman Rodolfo P. del Rosario came with his lovely muse, tita Milagros "Inday" Garcia-del Rosario; while tita Salome "Baby" Quindoy vda. de Garcia arrived with Sonny and Jackie Dizon, Albert and Ria Garcia, and Imee Garcia.
Former Congressman Miguel Alcantara Dominguez was also in attendance in the reunion with his lovely and statuesque wife, Tisha Ang-Dominguez, and their highly energetic daughters. The Pinedas led by Federico and Lourdes Pineda were enjoying themselves in one long table as well. Making her grand entrance was no other than PAL Mabuhay Magazine cover girl for January, Marga Montemayor-Nograles of Kaayo fame, who came with her three bright children who seem to have grown fast. I was seated next to Edwin and Maria Lourdes "Inday" Arcenas and I truly enjoyed the storytelling of Inday on the behind the scene happenings in politics. Yes, this career woman is the director of the Development Bank of the Philippines.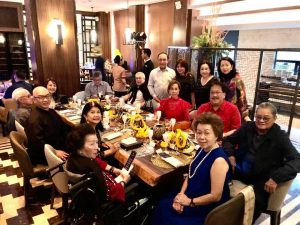 In a private room tucked in a quiet corner of Benjarong was the family of Jose Claro Hizon Velez with his ever-glowing wife, BPI Bank Exec. Gemma T. Velez, and their handsome unico hijo, Jose Paolo alias Jolo. With them were Gemma's mom and sister. Also spotted in Benjarong that night were Rodolfo and Jessieden Reta with their towering children.
Benjarong's New Year Dinner Set included Por Pia Pak (vegetable spring roll), Thod Mun Pla (Thai fish cake), Tom Yam Gung (spicy lemongrass soup with tiger prawns), Mango Sherbet for cleansing the palette, Pla Nung Manao (stream seabass with spicy sauce), Nua Phad Prik Gang (stir-fried beef with red curry paste) and Phad Pak Si Sa Hay (stir-fried veggies). For dessert, there was Khao Niew Ma Muang of sticky rice with mango and coconut ice cream. Benjarong's New Year Dinner was something quite new for me as my family has traditionally been eating Spanish-Filipino-Chinese cuisine for such special celebrations as Christmas and New Year's Day.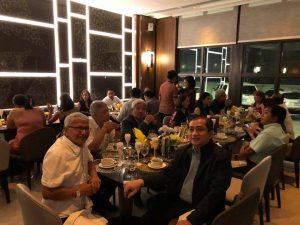 After dinner, the guests took to the dance floor to dance to the well-chosen music of DJ Julian Rodriguez, the son of Vincent and Donna Rodriguez of Tiny Kitchen's popularity. I had to leave before the clock struck twelve to be in our home as is our family tradition.
Thank you, Binggoy and Baby Montemayor, for adopting me on a special night. Thank you, dear Baby, for sharing your pictures on this page. I wish everybody all the best for the New Year 2020. Indeed, family is forever no matter what.