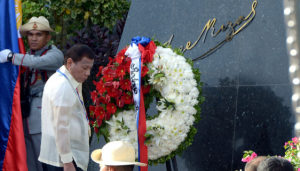 Destroy my country and you die.
President Rodrigo Duterte has warned the public during his visit in Cotabato against engaging in illegal drugs for "it will not do any good to anyone."
"If you engage in drugs, there is no other way to deal with you, except to kill you," he said.
The former Davao City mayor won the presidency over his platform to reportedly eradicate illegal drugs. His famous line "I hate drugs," has become his trademark and launched several internet memes.
His hardline stance, however, drew criticisms from rights groups and even the International Criminal Court. The court, which was established following the Rome Statute, is investigating his administration over the series of vigilante killings attributed to the drug war.
An irate President Duterte then ordered the Philippines' withdrawal from the Rome Statute. While analysts say that the withdrawal does not have impact on the investigation, it makes it harder to enforce if the country is uncooperative.
"Drugs will only cause us harm, drugs will only destroy the mind. It will affect especially the youth," he said.
"And if you destroy the youth in this land, then you have effectively destroyed the nation. And if that's the case, then it will be bloody," he added.
The president urged the people to stray way from using drugs for it destroy lives, especially the youth.
"It hurts me when youth are engaged in drugs, or under the influence of drugs. The next generation is just around the corner," he said. "Our social problem is the result of using drugs. Many Filipinos' lives have been ruined because of drugs."
"Drug users and dealers are not doing human rights, but only human wrongs. Having drug users and dealers around may ruin the country. Once again do not destroy my country, or else death will be knocking on your door," he said.