The Mindanao Development (MinDA) is introducing next year a sorghum program to the indigenous communities in Mindanao and the Bangsamoro Autonomous Region in Muslim Mindanao (BARMM) areas as part of beefing up their economic activities.
This developed as Secretary Emmanuel F. Piñol, MinDA chair, accepted middle of this month the 25-metric tons in sorghum seeds, a donation of Scotts Seeds Co., an American company, in Houston, Texas, the agency announced last week.
The press statement quoted Piñol as saying that the propagation of "sorghum in Mindanao, a grains crop and very rich in protein, is expected to boost the livestock and poultry sector, including Halal meat and poultry production."
The statement added that Davao del Norte Gov. Edwin I. Jubahib, who accompanied Piñol in the trip, accepted the donation with Coby Krieghauser, chief executive officer of the Texas-based company, signing the deed of donation in behalf of his company.
Aside from Davao del Norte, which also has a sizeable population of indigenous communities, Piñol said other provinces that have been identified as beneficiaries are Tawi-Tawi, Lanao del Sur, Maguindanao, Basilan, and Sulu, all part of the BARMM.
"The stakeholders of these areas asked for support in developing their Halal livestock and poultry industry," he said, adding that the BARMM is looking at developing itself as supplier of Halal meat and poultry to the markets in Brunei-Indonesia-Malaysia-Philippines-East Asean Growth Area and the Middle East.
He added that the sheep carrying the seeds, which left Galveston on December 16, was set to arrive here in February of 2020.
Earlier, Piñol also proposed that the crop be used in fighting the dreaded Fusarium Wilt, better known as Panama disease as it started in Panama, which has wrought havoc in Cavendish banana farms in Davao del Norte and other parts of the Davao Region.He explained that by planting the crop during the period, the soil is allowed to recover from the infestation as the disease is soil-borne. This will also allow banana growers to have another alternative source of income while waiting for their farms to recover from the impact of the disease.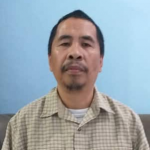 Managing Editor at Mindanao Times