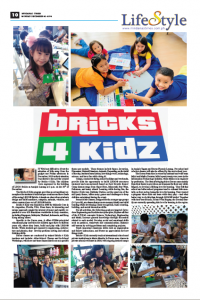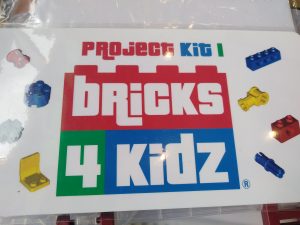 It was not difficult to divert the attention of kids away from the gadget one Friday afternoon in December, 2019 as their attention was drawn to the activity created by Bricks 4 Kidz. The children were engrossed in the building of LEGO Bricks at Annipie Lanang at 2 p.m. on the 20th of December.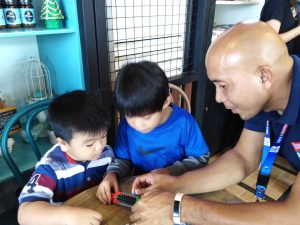 The Bricks 4 Kidz program provides an extraordinary atmosphere for students to build unique creations and have loads of fun using LEGO® Bricks. A hands-on class where students design and build machines, catapults, animals, vehicles, and other constructions out of LEGO® bricks.
Bricks 4 Kidz was founded in 2008 by Michelle Cote in St. Augustine, Florida, USA. From there, its interesting and unique approach caught the interest of many and rapidly expanded to over 650 franchises worldwide in forty countries, including Singapore, Malaysia, Thailand, Indonesia, and Hong Kong among others.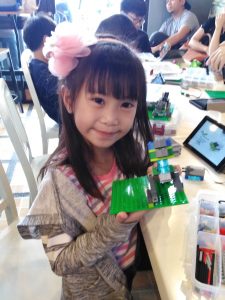 Specific to the Davao area, it offers STEM-principled educational play activities for children ages three to thirteen years old, where they learn, build and play with LEGO® Bricks. While students get exposed to engineering, architecture and physics, they develop problem solving and critical thinking skills.
Davao classes are conducted by trained Bricks 4 Kidz teachers and include: After-School Classes and In-School Workshops, which are one-hour classes that focus on a specific theme per module. These themes include Space, Invention, Dinosaurs, Natural Disasters, Animals. Depending on the build of the day, students learn history, how things work, technology, science, and have fun while doing it!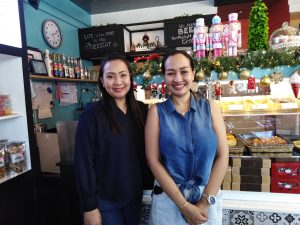 Camps, conducted during school holidays and weekends, provide kids the opportunity to build LEGO® structures (motored and non-motored) based on their favorite theme! Camp themes range from Super Hero, Minecraft, Star Wars, Pokemon, and many others! Learning while having fun, the Bricks 4 Kidz way. Birthday Parties, not the usual run of the mill party theme, offers many games and challenges to keep children entertained during the event.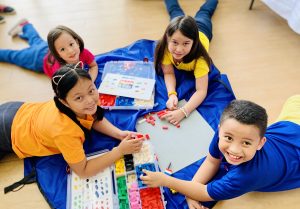 Parent & Me Classes, designed for the younger age groups (3-5 yrs old), are classes that promote mommy/daddy and child bonding while developing colour recognition, basic counting, building, and social interaction skills.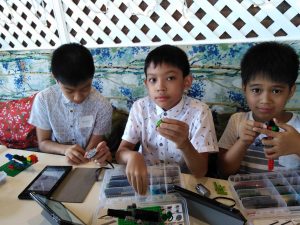 For all activities, the following goals are targeted: Introduce Engineering and Architecture principles; Explore all four of the S.T.E.M. concepts: Science, Technology, Engineering and Math; Increase general knowledge through discussion related to each model; Develop social and emotional skills such as patience, teamwork and communication; Enhance self-esteem by solving problems and completing projects;
Teach important classroom skills such as organization and follow instructions, and Foster an appreciation for how things work.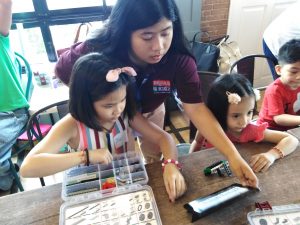 Bricks 4 Kidz currently teach at international schools and private institutions in Metro Manila. In Davao area, classes in private schools will start in 2020, with ongoing themed camps in Annipie Tagum and Davao Phoenix Lanang. Pre-school and robotics classes will also be offered by the next school year.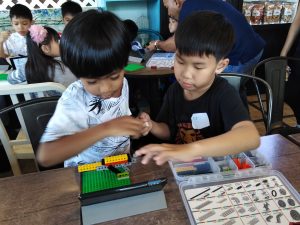 The Davao Franchise is owned by husband-and-wife team Mitzi and Maiko Derutas. Mitzi spent twenty-two years in the Information Technology industry, while Maiko is an engineer by profession. The idea of bringing this to Davao came mainly from their desire to provide an environment for their only child, Miguel, to develop a lifelong love for learning. They felt that school and after-school programs tend to exhaust kids mentally, so they end up losing the love for learning. They wanted a program where kids can learn while they play – and what better way to do this than through LEGO® bricks! Together with their best friends, Jid and Vina Bugtay, the Derutas family are currently spreading this love for learning in the region.