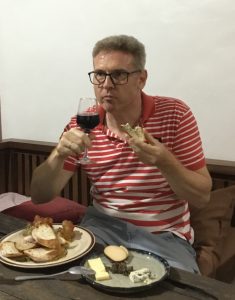 Tacunan, a yet another quaint part of the city, cradles La Fermette Cafe Bistro and Kawa Bath. This sweet and homey restaurant serves mainly French cuisine, authentic and fusion – and Asian dishes and drinks.
For La Fermette owners Jean-Michel and Eric Tam, fusion is the word that reflects the inner thread of their partnership. Jean happens to be a French citizen while Eric is a Filipino. At the backyard of the cafe, Eric tends to the farm while at the kitchen, Jean makes the menu from scratch.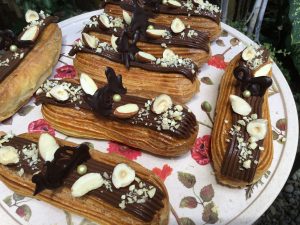 "Being at the farm and tending the plants and animals is such a dream come true for me! Although this is not a common dream among people nowadays anymore," shares Eric. "I always find it pleasant when the birds would drop seeds on our ground and a few weeks later, we would find different vegetables, like tomatoes, growing by itself."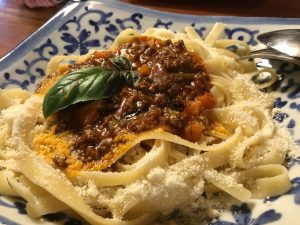 On the other hand, Jean reveals that his grandmother's home cooking had formed a loving part of his childhood and that was where he found the wellspring for his passion for cooking. "My grandmother is such a good cook – and I learned mostly from her," confesses Jean.
La Fermette started with table hosting style a few years back; serving their customers only on a booking basis. On a personal note, I fell in love with their food on those first dining experiences that I had always hoped for them to pursue their dream of having a resto. Fastforward, La Fermette finally opened their doors in August 2018. My early favorite then (and still is) was their French Eclairs. There are afternoons when I and my little girls would grab a quick Eclair snack from the cafe. Eventually, they have grown their menu on a good number.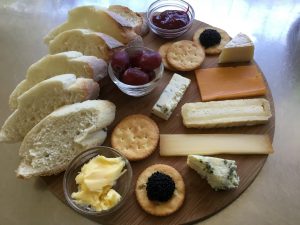 Having started La Fermette was never a walk in the park. A few months after they opened, they went viral on Facebook, and the little farm suddenly had to serve 300 customers in a day from 20-50. Jean and Eric, along with their team, had to draw strength from each other and learn really quick to accommodate their customers. Sharing about this experience, Jean says, "While I am grateful for going viral on Facebook, we had to know our priority – and we prioritize the diners than those who would opt take out." And many times, this is not understood by customers. Nevertheless, La Fermette pushed ahead while learning from countless experiences.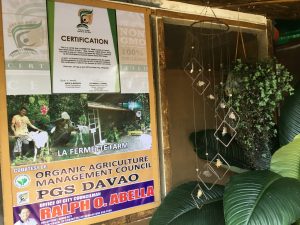 Over a year later, La Fermette has grown its services with their Kawa Bath while remaining as a fave resto. On a particular convo with Eric, I asked him if there was a time when he experienced burnout from doing his daily grind on the farm. "Thankfully, I never had that. Whenever I feel sad or tired, I'd go sleep under a tree or climb up on one and eat fruits above. After that, I would always feel light and rested. I also love talking with the animals, our cows and the piglets. That must be the gift of working with nature," he said.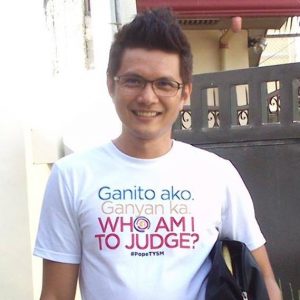 Yes, La Fermette has grown so much and so does their menu! Their cakes and desserts are heavenly and their French and fusion dishes would remain in your palette long after you've been there. This must be why my younger daughter Kyrstynne would always ask me for the resto's Bolognese. Their salads are innovative – and I especially love La Katana salad! It's a vegetable salad with nori and wasabi dressing. I could it the whole bandehado alone! Their juices are extracted from their fresh picks at the farm, depending on the fruit in season. But my children love the Golden Milk – something that you must also try there. Alternatively, they also kefir juices. They're so helpful for your digestion, this benefit, aside from it's sweet and tangy taste.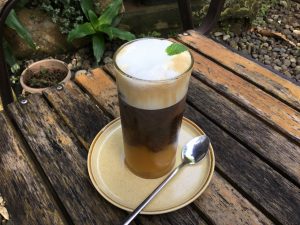 Also, a dairy farm, La Fermette makes their own dairy products and they bake their own bread and pastries. They produce different kinds of cheese and butter and yoghurt and they also bottle dairy milk as much as feasible. I, along with my students in Tuburan Institute, had this wonderful experience of learning how to make butter from scratch. And we have La Fermette to thank!
But best of all, you can feel the bright energy that the makers of the food are pouring on the dishes that they create. Even in their food presentation, you can feel the love for what they do. This must be why La Fermette thrives beautifully, even when the viral crowd has waned.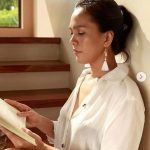 Joan Mae Soco-Bantayan is a teacher at Tuburan Institute, Inc. She is also a wife and a mother of two. For questions and comments, feel free to drop her an e-mail at joanmae1212@protonmail.com or visit her Facebook page, Joan Mae Soco.