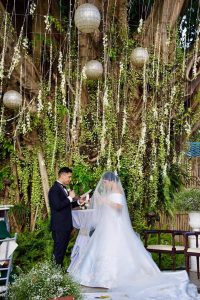 "In Filipino tradition, primary wedding sponsors are considered by the wedding couple as parental models, an honor ascribing one as worthy to serve as second parents," was Elmo Odin D. Familiaran's words of wisdom which had me heading straight to Manila just a week before Christmas. I stood proudly as ninong along with seven other ninongs and eight ninangs in the Christian wedding of my niece Sofia Monica (the hija of my dear cousin, Marina Suarez Magallanes, along with maid of honor Maria Josefa Victoria M. Daiz) and Alexander Q. Pacaña, Jr. (the son of Alexander V. Pacaña, Sr. & Josephine Q. Pacaña) last December 21, 2019. The wedding ceremony was held at the Banyan Garden of the exclusive Manila Polo Club in Makati City. The wedding's event stylist was no other than Manila's most sought after event planner, Rita Neri. Mak Tumang (the lava gown designer of outstanding Miss Universe 2018 Catriona Magnayon Gray) did the splendid bridal gown of Sofia and the elegant two piece ensemble in emerald green of the bride's chic mother dearest.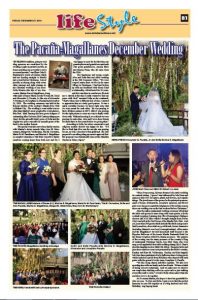 The special event also served as a family reunion with Marina's sisters namely Mary Ann M. Montemayor, Margot M. Valderrama, Tita M. Cervantes, Maria Fe M. Familiaran, and Monina S. Magallanes in complete attendance with their respective family members coming home from both near and far. I was happy to meet for the first time my grandnephews and grandnieces and such cute great grandnieces, Amelia Elsie and Alayna Nena, who all came from the USA.
The handsome and young couple Alex and Sofia first met while working at the SM Corporate Office. "We were carpool mates since we live in the same village in Parañaque. I had just broken up with my boyfriend with whom I had a relationship, which lasted for 10 years, and Alex was there to comfort me. He took me to church at the time I really wanted to find my peace with God," narrated Sofia as she continued, "That's when I saw a different side of Alex. I started to appreciate him as a truly good person. It was a quick courtship because we knew right away that we were meant for each other.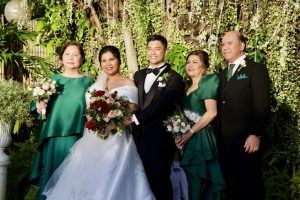 He was praying to find a lifetime partner in 2017; while I was praying for the right person to come my way to finally settle down with. Without knowing it, we realized we were praying for each other. Alex and I were close friends for about three to four years before we got together."
According to Sofia, her strict, conservative and religious mother dearest was happy for her. "I'd like to think that Alex was the one she was praying for me, as well. I am Alex's first girlfriend. He only proposed to me after getting my mom's approval first. His proposal was dramatically done at the Shinjuku Garden in Tokyo, Japan."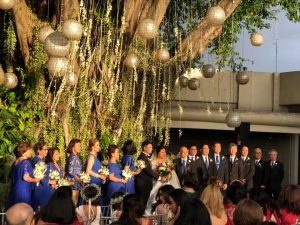 "Since I was young, I always dreamed of a rustic wedding in a natural setting. I guess I was influenced by lola Nena and mama in their love for nature, plants and flowers, and organic things. The jewel tones of the gowns for the principal sponsors, maid of honor, bridesmaids, secondary sponsors, and flower girls were chosen to match the brightness of the holiday season since our wedding was on the last weekend before Christmas."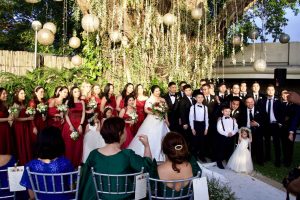 After the rather sentimental wedding ceremony which had the bride and groom in tears along with some guests, a lively cocktail reception featuring dear Olive Puentespina's Malagos cheeses (all of 22 kilos which I brought straight from Davao City) was held at the Turf Room of the Manila Polo Club. And yes, more than 300 guests which included the bride and groom's family members, close relatives, good friends, former classmates (including Marina's ever-loyal Assumptionistas), office mates and the Magallanes' devoted household staff trooped to the Rigodon Ballroom of the iconic Manila Peninsula Hotel for the dinner reception with RJ Ledesma as emcee.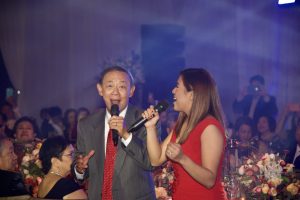 The surprise of the evening was the starry presence of the country's King of sentimental Christmas Carols, Jose Mari Chan, who even sang a well-applauded duet with wedding ninang Lily I. Chan's showbiz daughter-in-law, Nikki Gil-Albert. Energetic ballet and jazz dance numbers came next presented by the bride's cousins, Kaykay and Kate M. Valderrama. Kaykay and Kate happily led a line dance participated in by ballroom dance-loving guests which included a priest from Bukidnon who danced with such gusto with the groom's lovely mom, Josephine Q. Pacaña.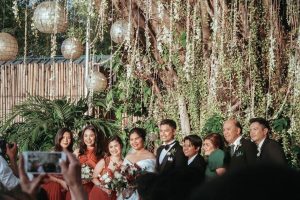 "We like doing church activities together. We also love spending time with our family and close friends. We have a habit of trying out new restaurants. And we make sure we observe our couple time drinking coffee in a quiet cafe or just walking around the mall to relax," revealed Sofia when asked what she and Alex love to do together.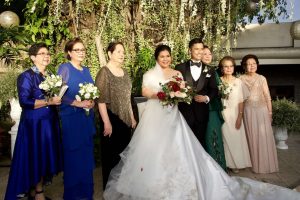 As for mama Marina, she hopes to have her grandchild to dote on soon. To Alex and Sofie, I pray you to find the perfect harmony in your life together as a loving husband and wife. Mabuhay ang bagong kasal.