Marco Polo Davao ends 2019 with a starry, starry night in their annual Thanksgiving Party for Associates plus the celebration of its 21st Anniversary. The men and women of the hotel's service industry tried their best in transforming themselves into their favorite pop music stars. That night, you'd be amused to bump into Katy Perry, Madonna, Britney Spears, Bruno Mars, Rihanna, Gloria Estefan, Cristina Aguilera, Beyonce, Mighty Mike and his boys, plus was that Yoyoy Villame and Willie Revillame wannabies on stage singing and dancing?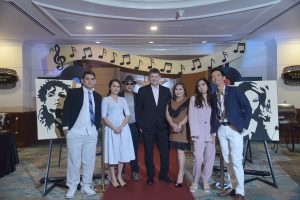 Lucky me, I was invited to judge again in the Lip Sync Battle where I was to judge four of the hotel's competing departments based according to the 15 members of each group's lip sync abilities, appearance and stage presence, choreography, costumes and props, and audience impact.
Mind you, but even GM Colin Healy was game enough to gyrate to Gloria Estefan's energetic ala fiesta forever number with his staff as back up dancers. I must say, "More practice, GM Colin!" Unfortunately, it was the Front Office and Finance Team which outdid everybody with its medley of presentations performed to the max and which included our very own local artists.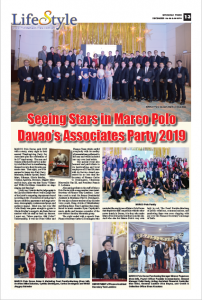 The special event also honored and paid tribute to its hardworking and loyal employees of 15 and 20 years with its Service Award presented by no less than the Secretary of Finance Carlos G. Dominguez, Chairman Bienvenido Tan III, and President Francis R. Ledesma.
Also paying tribute to the staff of Marco Polo Davao with a song number was Assist. Secretary of Finance Tony Lambino. Lambino used to work for former Presidential Assistant in Mindanao Paul G. Dominguez. He was also a former student of my favorite voice coach, Bong Aviola of Musikademy and Himig fame. Tony Lambino then transferred to music maestro Ryan Cayabyab's music studio and became a member of the now defunct Smokey Mountain group.
The night ended with a speech from Finance Secretary Carlos G. Dominguez who reminded the employees of Marco Polo Davao that despite the stiff competition with the other newer hotels in Davao, it is they who make Marco Polo Davao the best there is in the city. And who else but Marco Polo's very own lady in red, The Pearl Peralta-Maclang of public relations, communications, and marketing fame was seen clapping with joy over the Finance Secretary's message of faith.