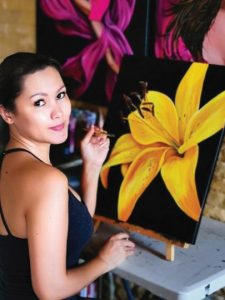 Anne Worsley is a self taught and home grown Dabawenya artist. At 7 years old she started to explore the world of art with her grandmother as her guide. Her childhood was as vibrant as she made it–from sketching paper dolls, to cartoon characters and celebrity portraits.
Aside from being a budding visual artist back then, her mother also developed her singing skills and supported her all the way. In college, her band performed gigs both nationally and internationally, including Dubai. She decided to pursue modeling and enrolled in Diva Dubai, a modeling school and agency and ultimately won third place for Dubai's Calendar Girls in 2003.
Following her passion ever since she was young, love seemed to meet her halfway until she met her future husband Andrew from the UK. Later on, their family moved back to the Philippines from Dubai and put up businesses, including Outback Grill restaurant, Zoofari kids play centers and Altitude- a trampoline centre all in Davao City.
With all the success she was receiving, her heart knows there was a childhood hobby that wants to be rekindled–painting. She decided to go back to art and start using acrylics because of its multitude of vibrant colors. One artist she truly admires is the Russian-Israeli artist, Leonid Afremov, whose words "True art is alive and inspired by many" she lives by. Subjects that fascinate and inspire her include nature, landscapes, lovers, and fairytales–anything that is light and makes her smile. She believes that "art's main purpose is to exude happiness more than pain".
At present, she mostly enjoys taking care of her family while still accepting part-time gigs like singing, hosting and local TV commercials. The Dabawenya artist has also been actively participating in Davao art exhibits and has sold a number of her creations, including hand painted handbags, shoes, painted denims, dresses and her first solo exhibit in partnership with Dusit Thani residence and a fashion show her latest hand painted handbag, dresses and shoe collections. She is proud to be a member of Bai Hinang a group of local women artists in Davao City. To her, art is a lifetime quest where learning is never-ending.