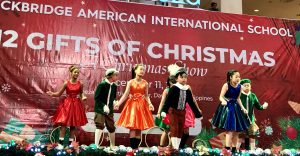 Christmas is an occasion of great joy and happiness best shared with everyone. As the year comes to an end, the Stockbridge American International School had it's Christmas Show with the theme "12 Gifts of Christmas" last December 11, 2019 at the Abreeza Ayala Mall Event Center, Davao City. The show aims to showcase the talents and skills of the young learners from Pre-Kindergarden (6 months old to 5 years old) and Kindergarten to Grade 5 as they presented on stage with their colorful costumes and perform with ease and confidence.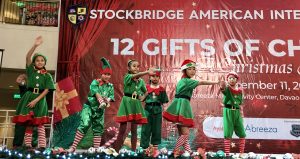 The Christmas show centered on a girll named Emma played by Bullet Behati Almaden (Kinder) who was sleeping when she suddenly heard a sound and later found out it was Santa. She wants to make sure it was him so she got up and checked. To her surprise, she saw partridges in pear trees and turtledoves! After, she tried to go back to sleep because she was convinced that everything is just a dream, but before lying down, another form of gift visited her. They were French hens! The rest of the 12 gifts visited her too which are calling birds, golden rings, geese, swans, milkmaids, ladies dancing, lords leaping, pipers piping, and drummers which were all played by the different grade levels. After Emma has witnessed all of them, she was curious but amazed at the same time. She asked herself, "Were all of them real? Are they really from Santa?". Then Santa showed herself to Emma saying that she deserved to be amazed by all that she has seen because she was not on the naughty list. She has been nice and remained a good girl. After, she went back to sleep knowing that her kindness has been rewarded.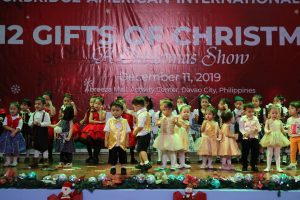 Indeed, Christmas is meant for children and this is the perfect opportunity for them to reflect on the things that they have learned and have achieved for the year. Truly, the Christmas Show has provided that opportunity for the young learners.