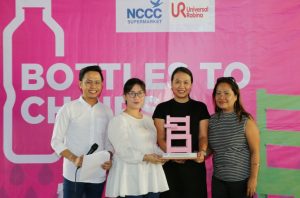 Matina Elementary School in Barangay Matina received an early Christmas treat as Universal Robina Corporation's (URC) Refresh Mineral Water shared school chairs to the Davao-based school.
The chairs are made from used plastic bottles that were collected during the mineral water brand's Refresh-Return-Recycle program.
"We are really amazed by the project—making chairs out of recycled plastic bottles. It is the first time we saw the process of making these chairs. Thank you for the opportunity," Jocelyn Lucena, Master Teacher at Matina Elementary School during a turn-over ceremony held in Barangay Matina in Davao City last December 12.
A sustainable partnership
Last August 2019, Refresh Mineral Water partnered with NCCC Supermarket in Davao City to place disposal bins in 30 NCCC Supermarket branches where mall-goers can return or dispose of used plastic bottles. With the help of Winder Recycling Company (WRC), all collected bottles were repurposed into classroom chairs.
Refresh-Return-Recycle
Refresh, a bottled mineral water made from 100% recyclable material, launched its Refresh-Return-Recycle campaign to encourage everyone to incorporate more sustainable practices in their lifestyle, especially on the proper disposal of single-use plastics. Aside from providing fresh and clean-tasting water, Refresh is doing its part in caring for the environment.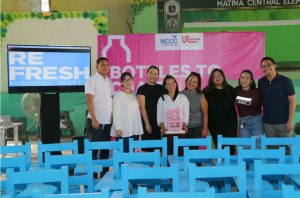 Aside from its partnership with NCCC, Refresh Mineral Water has been conducting activities to further encourage people to practice proper waste management. Last September, it held a roadshow in select Universities in Luzon where students learned about the value of recycling.
For more updates about Refresh Mineral Water and its Refresh-Return-Recycle campaign, visit its Facebook page at Facebook.com/RefreshWaterPH.
Universal Robina Corporation's (URC) Refresh Mineral Water and NCCC Malls partner to provide school chairs to Matina Elementary School in Davao City. Present during the turn-over ceremony last December 12 (from second) NCCC Assistant Vice President for Operations Jezza Damada, URC Cold Beverage Marketing Manager Jewel Capones Moudang, and Matina Elementary School Master Teacher 1 Jocelyn Lucena.
Universal Robina Corporations' (URC) Refresh Mineral Water led by (third) Jewel Capones Moudang, Marketing Manager for Cold Beverages, and (second) Jezza Damada, NCCC Malls AVP for Operations, turn-over school chairs to Matina Elementary School represented by (third and fourth) Aura Aguilar Abitong, School Coordinator, and Jocelyn Lucena, Master Teacher 1.
###