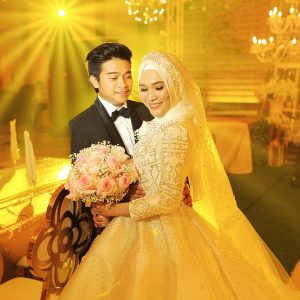 "Hilyah will be launching its first wedding gown inspired by the patterns of the Maguindanaoan Tribe," wrote Hilyah's Creative Director and Designer, Nurainie D. Ampatuan. Yes, she's the bright and talented Hiyas ng Kadayawan ng Davao 2019. "As a proud Dabawenyo clothing brand and for the love of the 11 tribes of Davao, I would like to invite you to be a part of this event and hopefully, feature in your lifestyle page the first wedding gown exposure of Hilyah."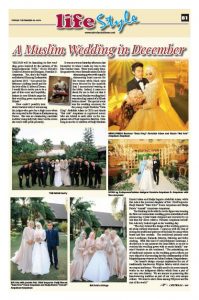 How could I possibly turn down Nurainie when I was among the judges who gave her a high score when she competed in the Hiyas sa Kadayawan ng Davao. She was an outstanding candidate and this young lady truly deserves the crown she wears with pride presently.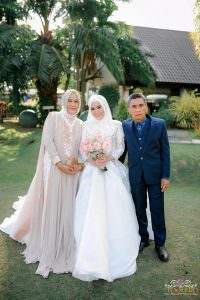 It was on a warm Saturday afternoon last December 14 when I made my way to the Ritz Garden Oasis. There were many Muslim guests who were formally attired in fully shimmering gowns with equally shimmering head scarves for the women while black suits were favored by the menfolk that I encountered waiting at the lobby. Indeed, it came as a shock for me to find out that it was a real Muslim wedding that I was attending instead of a Hilyah fashion show! The special event was the wedding ceremony for the young couple Bushran "Datu King" Abdullah Adam (a CEO) and Ahada "Bai Ada" Ampatuan (a registered nurse) who are related to each other on the Ampatuan side of their respective families. Datu King is one the 12 children of Hadji Ebrahim Kamid Adam and Hadja Saguira Abdullah Adam; while Bai Ada is the precious daughter of Ret. Chief Inspector Hadji Manule "Datu Kiko" Kenis Ampatuan and Hadja Baisia "Amnah" Ampatuan-Ampatuan.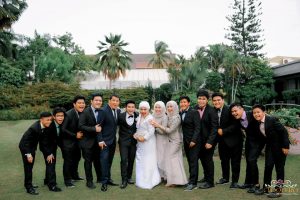 The blushing bride with the svelte figure was wearing the first ever immaculate wedding gown embellished with shimmering crystal beads designed and executed by no less than her direct relative, Nurainie Ampatuan herself. Bai Ada truly looked regal on her wedding day.
"The story behind the design of the wedding gown is all about cultural awareness. I came up with the idea of mixing the traditional patterns of the Inaul by using white beads and fine crystals. The traditional patterns used were Lumbayan, Karanda, Muntya, Pakireng and Seiko Andong.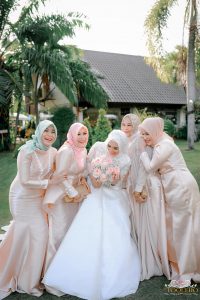 With this kind of embellishment technique, I decided not to use anymore the Inaul fabric so as not to overload the wedding gown with so much details," narrated Nurainie as she continued, "The painstaking use of traditional patterns on the wedding gown reflects my very objective of promoting the fine craftsmanship of the Maguindanaoan weavers in Sultan Kudarat, Maguindanao. Our brand's design concept emphasizes th
e use of traditionally handwoven Filipino fabrics which deserve our respect and honor. We really need to do more research works on our indigenous fabrics which form a part of our very own history. We are sincere in preserving this hand-weaving tradition as part of our very own unique culture. We want to share these among Filipinos and the rest of the world."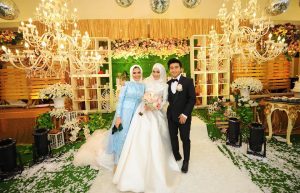 As there were still a number of wedding guests without seats; and since I was feeling like an alien on my assigned table with people I didn't know and I could not even understand their language, I decided to take a French leave. As I did, I remembered Nurainie telling me, "Marriage is sacred in both our cultures. This is why the first wedding gown I designed is so important to me as it is to the bride who happens to be my relative. It represents the love and happiness that the bride and groom have shared and will continue to share through the years. And hopefully, it is unconditional love that the Datu King and Bai Ada will have as their most precious possession for the rest of their lives together. The couple's love for each other is the kind of love for the sake of Allah."
For those interested on having Nuraine design their clothes, please contact 6399-8939-2244. Thank you, Temmy Labiano Toquero, for the photos.
Madayaw and Assalamu 'alaikum!