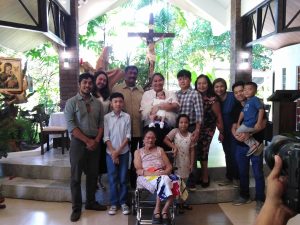 Isidoro and Christine chose a very special day for the christening of Baby Madeleine Claire, a day celebrated in the Philippines and around the world as the Feast of the Immaculate Conception. December 8 was declared a holiday in the country by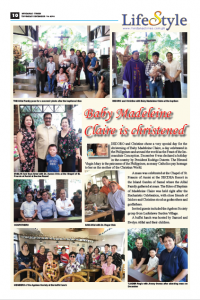 President Rodrigo Duterte. The Blessed Virgin Mary is the patroness of the Philippines, as many Catholics pay homage to her as the mother of the Christian World.
A mass was celebrated at the Chapel of St. Francis of Assisi at the SECDEA Resort in the Island Garden of Samal where the Afdal Family gathered at mass.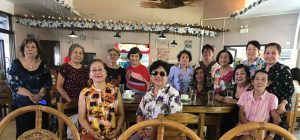 The Rites of Baptism of Madeleine Claire was held right after the Eucharistic Celebration, with close friends of Isidoro and Christine stood as godmothers and godfathers.
Invited guests included the Ageless Society group from Ladislawa Garden Village. A buffet lunch was hosted by Samuel and Evelyn Afdal and their children.