Coffee is the second most-traded commodity in the world, grown in more than 50 countries that lie in the equatorial zone. Since it was introduced in the Philippines in 1740 by the Spaniards, it has remained to be one of the country's leading export commodities.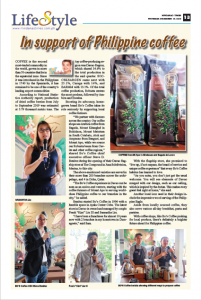 According to National Statistics Authority report, production of dried coffee berries from July to September 2019 was estimated at 5.79 thousand metric tons. The top coffee-producing region was Davao Region, which shared 34.6% to the total production in the said quarter. SOCCSKSARGEN came next with 25.1%, Caraga with 14%, and BARMM with 13.1%. Of the total coffee production, Robusta cmwas the most produce, followed by Arabica and Excelsa.
Boosting its advocacy, homegrown brand Bo's Coffee takes its role seriously by supporting local coffee farmers.
"We partner with farmers across the country. Our coffee shops use Arabica coffee from Sagada, Mount Kitanglad in Bukidnon, Mount Matutum in South Cotabato, Atok and Ampucao from Benguet, and Mount Apo, while we source our Robusta beans from Cavite and other coffee regions," shared Bo's Coffee chief executive officer Steve D. Benitez during the opening of their Davao flagship store at The Compound in Juna Subdivision, Marina, to this city.
The above-mentioned varieties are served in their more than 200 branches across the archipelago, and 4 in Doha, Qatar.
"The Bo's Coffee experience in Davao can be seen as an end-to-end venture, starting with the coffee farmers of Mount Apo to serving world-class Philippine coffee to our branches in the city," he added.
Benitez started Bo's Coffee in 1996 with a humble space in Ayala Center Cebu. The latest store in Davao is owned and managed by couple Frank "Kim" Liu III and Samantha Liu.
"I have been a franchisee for almost 10 years now with 2 branches in my hometown in Dumaguete," said Sam.
With the flagship store, she promised to "live up, if not surpass, the brand of service and unique coffee experience" that every Bo's Coffee habitue has learned to love.
"As you enter, you don't just get the usual welcome. You will see elements of Davao merged with our design, such as our ceiling, which is inspired by the durian. This makes every guest feel right at home," she said.
Another local icon used in their design include the impressive wood carving of the Philippine Eagle.
Aside from locally sourced coffee, they also serve various all-day breakfast, pasta and pastries.
With coffee shops, like Bo's Coffee pushing for local produce, there's definitely a brighter future ahead for Philippine coffee.