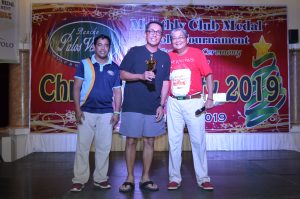 Davao City – Members of the Eaglemasters Golf Club took centerstage after winning separate awards in the recent Rancho Palos Verdes Golf and Country Club 3rd Monthly Medal golf tournament last December 12 to 14.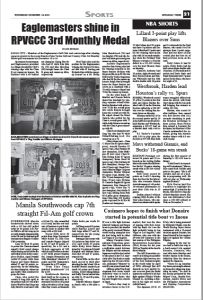 Sportsman-businessman and Eaglemasters president Leo Magno headed the Club's winning edge with the Class B net runner-up honors. He finished with a 69 behind net champion Chung Hee Su who had 65 while Kim Min Su (78) and Mac Mending (80) brought home the Class B gross and runner-up titles, respectively.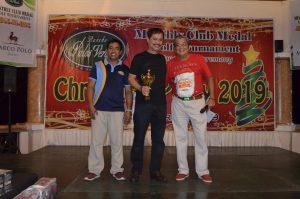 Noel Taojo also took the podium for the Eaglemasters winning the Seniors Division net title with 65 leaving past Richard Alejo with the runner-up honors on a 68. Philip John Hazelwood (76) and Joe Marfori (78) took the Senior's division gross and gross runner-up titles, respectively.
Another Eaglemaster member Sam Strong also had his winning moments in the Super Seniors division with the gross title on an 89. He was followed by Toshio Sugiyama who had 96 for the runner-up honors. Ralph Garcia brought home the Super Seniors net crown on a countback with a 70 while Susumo Ohnari had 72 for the runner-up honors.
On the other hand, JP Marfori and Ronnie Balcia shared the limelight by winning separate overall titles. Marfori finished with a three-over 75 for the overall gross title while Balcita brought home the overall net with 62. He edged closest for Ninot Galicia who settled for the Class A overall gross with 77 while Addy Briones wound up with the Class A gross runner-up with 80.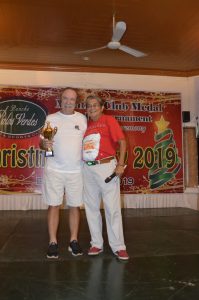 Class A net champion saw Jong Tan who had 70 while Richard Bad-ang took the runner-up on a 72.
Other winner saw – Class C: Boyet Tan 83 (gross champion), Arnold Navales 87 (gross r-up), John Naranjo 68 (net champion), Dado Mahipus 69 (net r-up); Class D: Kim Kwang Keun 87 (gross champion), Brian Good 94 (gross r-up), Obet Solitaria 66 (net champion), George Omelio 87 (net r-up); Guest Division I: Marlon Hager 72 (gross champion), Marlon Tabanao 85 (gross r-up), Martin Castillo 73 (net champion), Frank Buno 76 (net r-up); Division II: Carmelo Bagara 86 (gross champion), Pete Zamora 91 (gross r-up), Victor Tan 71 (net champion), Jam Abella 72 (net r-up), Myung Seon Park 85 (Ladies gross champion), Jang Chun Man 104 (Ladies gross r-up) and Do Ri Ko 80 (Ladies net champion).