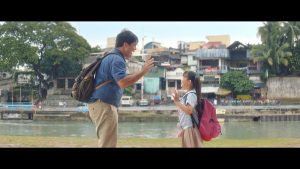 "Miracle in Cell No. 7" is set to unfold on the big screen this Christmas, and this early, the public's reaction to this movie top-billed by Aga Muhlach is nothing short of phenomenal.
On November 12, 2019, the teaser was released in various social media pages of Viva Films and garnered 3 million views in just 5 hours. The views more than doubled to 7 million in 16 hours, then reached 9.6 million in just 24 hours of its release. Two weeks later, as of Nov 25, 2019, record shows an impressive 18.4 million views across all media platforms.
Is it a miracle to have that kind of enthusiasm from the audience? Maybe not, especially when many are already familiar with the original "Miracle in Cell No. 7", the heart-wrenching, highest grossing film in South Korea in 2013 and currently ranks No. 7 in the list of Korea's highest grossing domestic films of all time.
Directed by Nuel C. Naval (A Secret Affair, This Time), this official entry to the 2019 Metro Manila Film Festival stays faithful to the original plot.
Aga plays a mentally-ill man who is wrongfully charged with sexually assaulting and murdering a little girl who happens to be the daughter of a high-ranking official (Tirso Cruz III). Joselito, the character played by Aga, has a very loving daughter named Yesha (Xia Vigor) who is left with nobody now that he is in prison.
In all his innocence, Joselito wishes to be with Yesha even in prison. With his fellow inmates already softening up on him, they device a plan to smuggle his young daughter inside the cell. Their success in pulling it off, the bond that is formed between Joselito and the men, the affection they have for the little girl, and how she brings out the best in them — all these put together may be the miracle in cell no. 7.
Their strong connection lives on even years later when Yesha, already a lawyer (Bela Padilla), is determined to clear his father's name.
The appeal of "Miracle in Cell No. 7" to Pinoy audiences is not just in the storyline, but in the humor and in the all-star cast as well.
Playing Aga's inmates are critically acclaimed character actors Joel Torre as Boss Sol, Jojit Lorenzo as Bong, Mon Confiado as Choi, JC Santos as Mambo, and Soliman Cruz as Tatang Celso.  Award-winning actor John Arcilla assumes the role of the prison chief, Johnny.   Aga expressed his gratitude for the experience of working with "such great actors"  in a "super fun set", giving special mention to director Nuel Naval.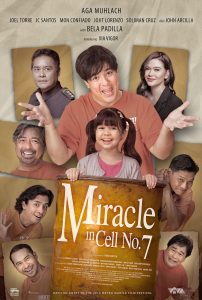 The most crucial part of the movie is set at Christmastime, and it will surely tug at everyone's heartstrings. One dramatic scene revealed in the teaser is that of Yesha feeling sorry for not having a Christmas gift for her father. Joselito then points out that Yesha is already a gift just as she is because he feels very much loved by her.
"It's a very touching, heart melting movie…I suggest you watch this beautiful movie," wrote Tirso Cruz III when he posted a photo with Aga on Instagram. That father-daughter scene alone already proves his statement to be true.
Aga's brilliance is not lost on Bela Padilla, who calls this opportunity of working with him a "dream come true". In an interview conducted by ABS-CBN News, Bela said, ""There's really a magic around Kuya Aga…k ahit look test lang he sparks something onscreen. I was watching his videos and amazed na amazed na ako, wala pang lines humahanga na ako."
On Christmas Day and for the entire length of the MMFF, we all deserve a family drama that's high on entertainment value and shows what great love can do. Have faith that "Miracle in Cell No. 7" is that kind of movie. Be assured by Aga Muhlach's caption to his Instagram post on November 13, the day after the teaser was released. For the millions who support the film, he wrote a simple yet powerful message: "We won't fail you."