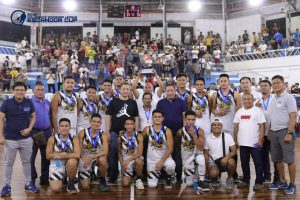 Davao City – Their three-point shot mattered most at crunchtime as the Agro Industrial Foundation College Sailors bagged this year's Collegiate Sponsors League-Escandor Cup basketball title, Saturday (December 14) at the expense of Holy Cross of Davao College Crusaders, 69-67 in front of a jampacked crowd at the Davao City Recreation Center (Almendras gym).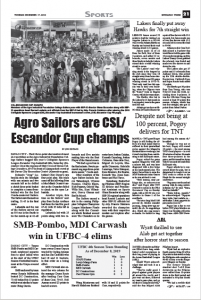 Rolando "Jong" Labastida stole the limelight with one minute and two seconds left as he drilled a clutch three-point basket to complete a come-from-behind win for the Rod Conda-mentored Sailors. The Sailors saw themselves trailing, 51-45 in the final canto.
Labastida and the rest of the Sailors carved out an 8-0 run in the fourth to tie the match-up at 61-all behind Clint Dizon's rare four-point play. His triple came off the left wing from a John Mhark Ocastro's assist as the Crusaders failed to check on the open Labastida.
Another triple, this time on the Sailors' next play from Redyn Arellano had them the lead for good 67-61 with 35 ticks left in regulation.
Labastida led with 25 points along with two rebounds and five assists making him win the Best Player of the Game honors.
"We had a good run in the final minute. Swerte pumasok ang mga three-point shots namin," Conda said.
Other members of the Agro Sailors include Janrex Tahanlangit, Ulysses Fuentes, Charlie Baura, Kyle Paquera, Gabriel Yap, Willy Itoc, Kent Villacuatro, Geevy Gianan and Emille Mozol.
The Sailors earned a slot in the coming Philippine Collegiate Champions League Mindanao Finals along with the Crusaders which finished second seed. The Crusaders on its roster have Joshua Catalan, Kenneth Cayudong, Joshua Colinares, Gene dela Cruz, Miguel de Loyola, Shaquille Dimacuta, Gabrielle Lazarraga, Victor Marquez, Kane Montero, Ric Ruales, Kenneth Yap, Jones Zambrano and Paul Turco.
Samahang Basketbol ng Pilipinas (SBP) Region XI director and Presidential Assistant on Sports Glenn Escandor along with SBP-XI regional operations head Ronnel Leuterio and other SBP-XI officials led by Atty. Francis Calatrava awarded the champion team with their respective medals and trophies after the games.