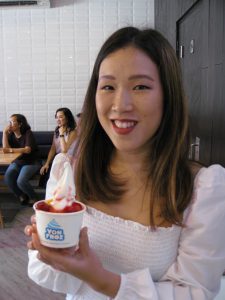 You have to hand it to the young Chinoy entrepreneurs Jason, Jasper and Daryl Ngo. These children of Gerry and Muy Ngo are business minded, hardworking and disciplined as they are health conscious. Yes, they have fit physiques as evidenced by their glorious 6-pack abs they surely worked hard for to achieve. It is no wonder then that their philosophy, "Do Your Health a Flavor," made them secure the franchise of a yogurt brand of Manila from the Gatchalian family's Glacier Bay Diversified Ventures, Inc.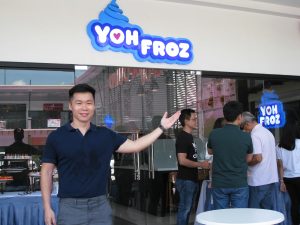 "It was during a trip to Bangkok, Thailand, when the idea of introducing a frozen yogurt shop in Davao came to me in 2006. I was then travelling with my uncle Joseph and my elder brother, Jason. It was my uncle who made my brother and I taste frozen yogurt in one of the shops in Bangkok. It occurred to me then that it was a good concept to bring to Davao which, at that time, saw Davaoenos becoming more health-conscious," narrated Jasper as he continued," My uncle then introduced me to the Gatchalian family who pioneered a frozen yogurt shop in Manila. I told the Gatchalians that I was very interested in bringing the product to Davao. However, I was made to wait for the simple reason that the brand was not yet ready for franchising."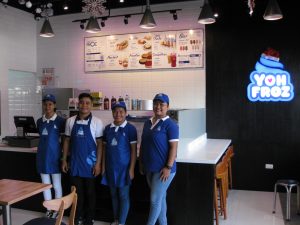 It was in 2010 when the Gatchalian family's Yohgurt Froz was re-branded to Yoh Froz. "Yes, we were awarded the first franchise of Yoh Froz. After months of brainstorming and looking for an ideal location for the first Yoh Foz in Mindanao, we opened our first branch at the Davao Autoville Center along F. Torres Street on June 1, 2011. I was quite anxious when we opened our first Yoh Froz branch, which was a new business venture for me, because several frozen yogurt brands had already put up shops in the city before us. But by giving the utmost importance to good customer service and providing our clients with high quality products, we were able to weather the storm. The other yogurt shops have since been out of business. As our branch along F. Torres Street was performing quite well, we were encouraged to open our second branch in Davao."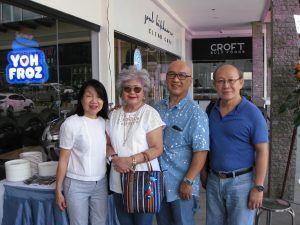 Since most of the customers of Yoh Froz come from the south side of Davao, the Ngo family opened a second branch at The Compound owned by the Llamas siblings Jose, Antonio and Purita along Tulip Drive. Yoh Froz at The Compound was inaugurated last December 7, 2019, with the attendance of Mary Jane, Ruby and Cathy Gatchalian of the Glacier Bay Diversified Ventures, Inc. who flew in from Manila for the event.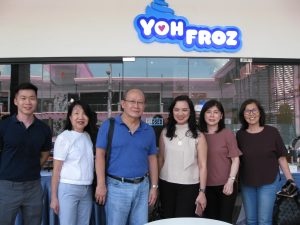 "Glacier Bay Diversified Ventures, Inc. is a family-owned enterprise that was born out of a passionate desire to share a wonderful family discovery. Back in 2004 when the concept of soft-serve frozen yogurt was still unheard of in the Philippines, the family stumbled upon this healthy dessert during one of their trips abroad. They were so delighted with the idea that one can indulge in such a refreshingly delicious treat without the guilt, and at the same time, enjoy the countless health benefits of yogurt. Yoh Froz is the ultimate healthy dessert," narrated Mary Jane T. Gatchalian.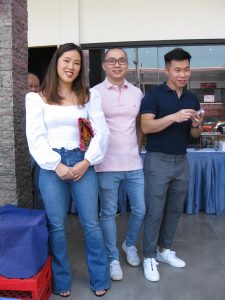 "Yogurt is a good health food. It promotes good intestinal movement while being well-tolerated by most lactose intolerant people.
Probiotics promote the growth of good bacteria in the colon. Yogurt is a 'healing food' for diarrhea. And yogurt reinforces the bones by being a great source of calcium," enumerated dear Daryl Ngo while serving me with a cup of ube flavored Yoh Froz yogurt. This mighty girl is, indeed, into a lot of business. As far as I can remember, she was the only dancing member of the LCB Performing Arts Center in the past who is blessed with a six-pack abs!
Congratulations, Jason, Jasper and Daryl Ngo on your new Yoh Froz branch.