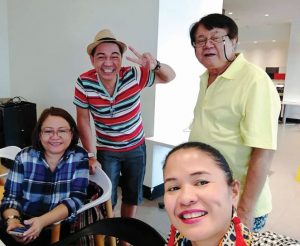 From bankers to artist and gallery owners were the transition of spouses Alex and Sabel Alagon who owns the Bintana Art Gallery. Both of them used to work in a bank where Alex worked as a loan officer and Sabel as a teller. But as fate have it they never thought they would land in the art business.
This all started six years ago when Alex decided to go full time doing artworks. Prior to that, Alex had been into many businesses, became a Barangay Councilor for 13 years and also became a media personality in print, radio and TV. Asked why he decided to go into arts, Alex simply said it was a response to a calling. As far as he can remember he had been doing artwork since age 6 when he can still vividly remember making drawings on all his notebooks from anything he can think of. Though he considers himself a self-taught artist he had basic art lessons from his high school days where his elective subject was drafting. His gift in the arts gave him a pass to finish college as a working scholar at the University of Mindanao under the mentorship of Rene Lumawag. Right after college he worked then as a bank employee where he met his wife Sabel.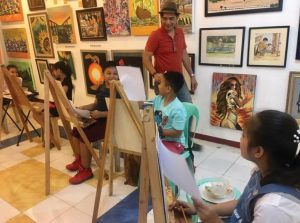 Equipped with his gift in the arts coupled with his knowledge in the business and his social skills as a former politician, Alex has been quite successful in his art career having painted close to 500 paintings in the past 6 years which are scattered in and outside the country. He has had 5 solo exhibits in his cap and countless group exhibits in which Alex acted as the curator and impresario. He conducts art workshops for all ages and he has a special place in his heart to teach persons especially with autism and Down's syndrome. June of this year he was invited to conduct an art workshop in the 2019 Asia Pacific Accessible Art Festival in Macau, China. Alex also co-founded one of the most active art group in Davao: the United Durian Artists.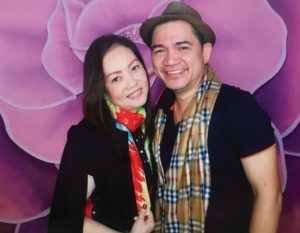 Sabel on the other hand fully supports Alex in his art journey always at his side during exhibits and even in Alex's art process where she helps in preparing the materials and then marketing the works. Mid last year the couple decided to be more serious in their art business when they put up and register their Bintana Art Gallery. At first they were very hesitant about the move because running an art gallery is not an easy thing. This time Alex is not only concerned of his own artworks but also of the artists under their roof. But faith and trust in God gave them the strength and the courage to stand their ground and face whatever challenges ahead of them for the love of Art.
Bintana Art Gallery will be joining the creation of an art federation in Davao City. This move will help promote the gallery and their objective to elevate art, Davao artists and their works.