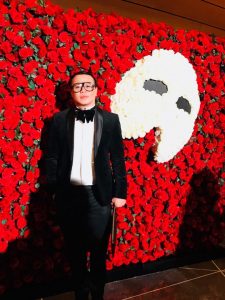 What makes a good designer? This was what I asked a recent visitor to Davao in the person of fashion designer Ronan Cabrito Opiña. It was a surprise message I got from him asking if we could have dinner together last week. And of course, I recommended Vincent and Donna Rodriguez's Tiny Kitchen for my treat as I would be working out in the Holiday Gym before our dinner date. These past days, I have to hit the gym in the spirit of "dagdag-bawas" to compensate for all the parties I attended and will still have to attend.
Ronan has been working with international fashion designer Michael Cinco in Dubai, UAE, where he said he labors hard but is very happy with all the blessings which came to him. I first met this talented designer when he worked with mama Renee Salud's first design studio at the Victoria Plaza. "I was an interior design student at the Philippine School of Interior Design in Manila when I first met mama Renee Salud and I was starstruck. Visiting him so often at his atelier along Espana Extension in Manila made me realize how much I love designing clothes more than doing interior design. I don't know but I failed to do my thesis to finish my program in interior design and just followed mama Renee. Everything happened so fast that I found myself in mama Renee's first design studio in Davao. He so trusted me to be his in-house designer," so recalled Ronan who hails from Catbalogan, Samar, but who first went to Manila for his high school studies. It was in 2000 when Ronan came to Davao to work for mama Renee. He also had the chance to work for Juliet Pamintuan, the Beadworks Designer Shop in Lanang, and finally, in Chardin after which he decided to seek greener pastures in Dubai.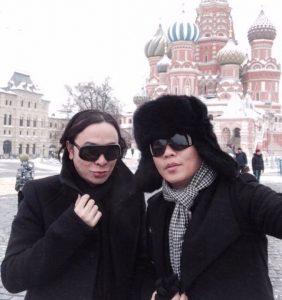 "Working in Dubai at first was very difficult for me. I had to learn everything from the start to be able to accomplish the daily appointments and meet the due dates for the finished products that we had to deliver to our rich and demanding clients. Honestly, I had thoughts of backing out at the start. But I guess I was able to convince myself that it was just an adjustment phase for me as part of my learning process. I was truly culture shocked with the new environment I was in. Imagine, I had to undergo a quick transition from being a provincial Davao designer to that of a sophisticated Dubai designer I envisioned myself to be. I am still adjusting despite the years. Your learning process never stops. I am able to harmonize myself now and I am getting used to life in Dubai. It is easier for me now to interact and accommodate our rich clients. I find it inspiring to meet new clients and feel the excitement of what to design for them that would suit them. I have also learned to adjust with the foreign workers like the beaders from India who are so good. Yes, in Dubai, you encounter lots of people from different countries and from different walks of life. It is truly a great learning experience one can dream of," Ronan revealed.
Indeed, I can feel that the guy has matured and has become more serious with his learning experience abroad. But like any true Pinoy, Ronan is determined to come back home someday when he has earned enough money to make living in the Philippines comfortable
"Women in the UAE in general don't go for simple dresses. Our clients are tops at Michael Cinco's in-demand design studio. They have very high standards in the manner of dressing up. They insist on high quality, exceptional fabrics they will look expensive and gorgeous in. How they love very ornate and rich embellishments on their clothes to add more bling to their blinding diamond jewelry from head to foot. They have all the money to realize their couture fantasies. And you just have to help them realize their dreams."
"I am used to designing for women and it has become easier for me to translate what a a particular woman's ideal dress or gown is. Designing for men is more challenging even if I have designed menswear for years. It has always been in me to be known as a designer for both men and women."
"As to what makes a good and successful designer, well, you must have creativity which is essential for one to come up with novel ideas and innovations constantly. A good designer should also have good visual abilities and should be armed with strong drawing skills to be able take a concept or an idea from a client and draw it on paper. And this you realize later into a finished product. A good designer must have a good sense of texture, color and fabric; and a good eye for details which will make a difference to make a design stand out. Another very important factor for a successful designer like my boss, Michael Cinco, is a good grasp of the fashion business. It includes finance, sales, marketing, loyal and satisfied patronage, among others still," lectured Ronan.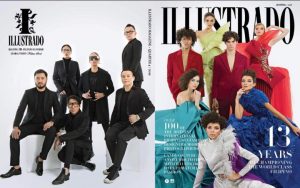 Honestly, I am happy that our local designers' stars are beginning to shine abroad. They truly work hard for it which is quite admirable. May the couture force be always with you, Ronan Cabrito Opiña.