During a Zoology class with the children from Grade Four in Tuburan Institute, we were talking about lions. I was telling them about the ways of the lions and their pride. When our session was about to finish, I told them that the number of the lions is getting smaller each year, and so people from different parts of the world have started making a move to help them; countries like Kenya and Tanzania even have their own savanna as conservation sites that no one can disrupt.
When we finished talking, one of my pupils said, "Mrs. Joan Mae, when I grow up, I will help preserve the lions even when I am a little bit afraid of them now!" I looked at the 10-year old boy who announced his conviction. His bright eyes shone beautifully and he said those words like he is truly looking forward to it. I smiled, deep in my heart. I hope that he will remember what he had said by the time he's capable of making sound decisions.
It is interesting to note that a lot of my students react like they are in dire want to help the nature every time we talk about the plight of animals and of nature. I shared this with some parents and a parent told me that these days, our generation of parents are alarmed with the environmental challenges that many of us want to take care of the environment. Moreover, we want our children to understand the need to do so. "But we cannot tell our children to protect the environment and expect them to internalize what we are saying," she says. "Perhaps, the first thing to do is to show them that the world is beautiful; that the animals are interesting, that even the unlovable creatures like the spiders have a role to play in this wonderful earth."
"Only when the children learn to appreciate nature that they learn the importance of defending it," she added.
I will have to agree with this parent. Our children, especially those who are 10 below cannot yet understand moralizing and conceptual thinking. They need actual experience of the things that matter a lot to this world and it will take a few years for them to form judgments relating to moral and ethical challenges. For us parents to embed in our children's consciousness love for nature, they have to see and observe that love from us. If we keep telling them that the earth is dirty, then it will be inevitably difficult for them to understand why they have to protect it.
Our children need to see us enjoy the skies, marvel at the caterpillar, and even lovingly touch the earth as we garden. They need to experience our clear intention in the things that we do. This means that we also need to really mean what we do and not just do for the sake of doing it. If we strive to become that, our children will absorb our powers. From our cup of deeds, they will drink their inspiration. And when the time comes, we will have lovingly raised true defenders of nature.
Let's keep our hopes high for these younger generations although this may mean stepping up to our responsibility as the older ones.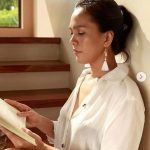 Joan Mae Soco-Bantayan is a teacher at Tuburan Institute, Inc. She is also a wife and a mother of two. For questions and comments, feel free to drop her an e-mail at joanmae1212@protonmail.com or visit her Facebook page, Joan Mae Soco.