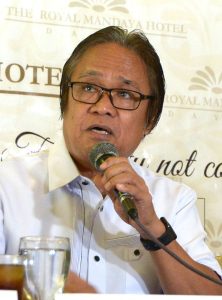 The Davao City Police Office (DCPO) will implement a "one entrance policy" during the Misa De Gallo, a Catholic tradition of hearing a mass nine days before Christmas.
"We are preparing for the security measures on Misa de Gallo and we are thankful to Archbishop Romulo Valles who supported the request of city police office director Col. Kirby John Kraft to have "One entrance policy" in all churches," Capt Rosario Aguilar, the DCPO spokesperson said.
"Archbishop also sent a message to the 39 churches in the city to support the one entrance policy that we want to implement," Aguilar said.
In all churches, all entry points will be closed off except one. This will make it easier to inspect the bags of churchgoers.
"So that there will be no suspicious individuals or groups that will enter the churches," she added.
After the mass, all gates will be opened to make it easier for the crowd to exit the compound. She also reminded the public that backpacks, luggage, and other huge bags are prohibited inside.
"He also mandated the 39 churches in the city to support the initiative of Col. Kraft regarding the DCPO Shield 911, particularly the Oplan Bantay Bathala," she added.
During the Misa de Gallo, all personnel will be deployed, even the ones assigned to the administrative section. The police stations will be manned with a skeletal force to handle complaints and reports.
"They will also secure the churches since the headquarters will also augment personnel in areas with big churches," she further said.
Also, Maj. Jason Baria, the spokesperson of Police Regional Office XI, said that the security plan has already been distributed for implementation to the provincial and city police station commanders.
"The city already has regulations in terms of entering the churches. Also with the provincial offices, depending on the policy of the local government unit in the area," Baria said.