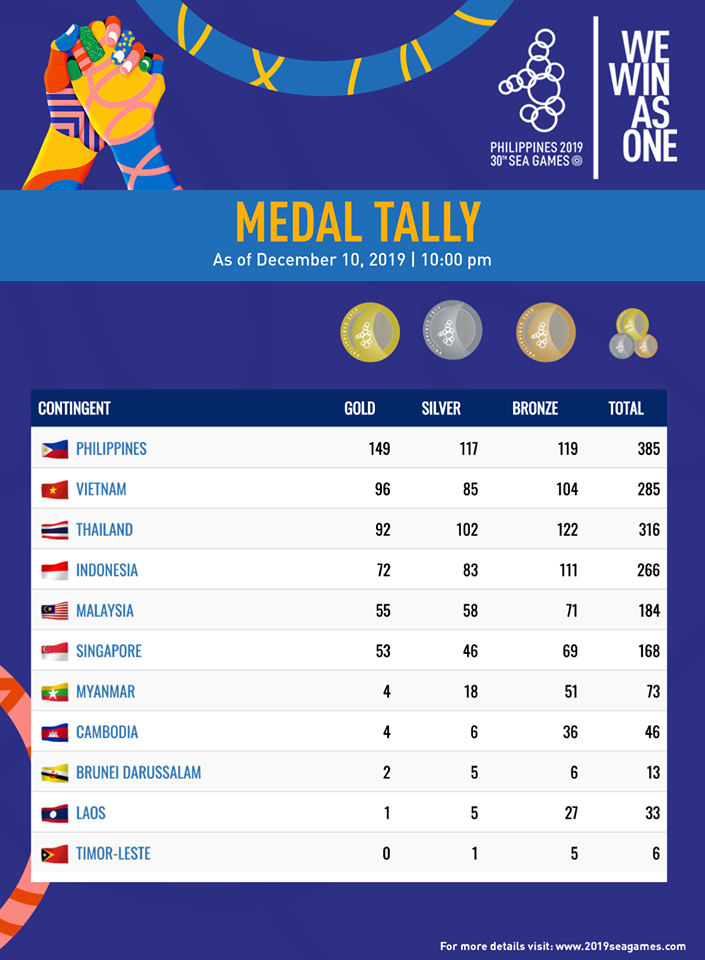 Pasay City – Team Philippines had a total of 385 medals in what was considered as the biggest and overall medal haul for its national athletes in any Southeast Asian Games competition at the close of the 30th edition.
The Philippines won the overall champions with 149 golds, 117 silvers and 119 bronzes in this year's edition of the SEA Games which had 56 sports in 530 events.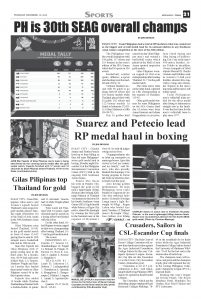 Basketball, combat sports, athletics, e-sports and shooting were the medal haul of Day 10.
Vietnam finished second with 96 golds to go along iwth 85 silvers and 104 bronze medals while Thailand placed third with 92 golds, 102 silvers and 122 bronze medals. At fourth is Indonesia (72-83-111) then Malaysia at fifth (56-58-71).
Day 10 golden haul came from the Gilas Pilipinas men's and women's basketball teams which played at the Mall of Asia Arena sported respective gold medals.
Gilas Pilipinas women capped its first-ever championship after beating Thailand, 91-71 in the gold medal match.
The Gilas men's team on the other hand, captured its 13th championship at the expense of Thailand, 115-81.
Other gold medal winners for team Philippines on the SEA Games final day of action were from Annie Ramirez and Adrian Guggenheim in jiu-jitsu, Jean Claud Saclag and Gina Iniong of kickboxing, Eric Cray in the men's 400-meter hurdles, Aries Toledo in decathlon, Caviar Acampado of Sibol eSports Starcraft II, Chezka Centeno and Rubilen Amit in women's 9-ball pool doubles, shooters Eric Ang, Carlos Carag and Alexander Topacio in the men's trap team and the men's soft tennis squad.
Team Philippines men's volleyball team settled for the silver medal after losing to Indonesia in straight sets in the finals. It was the first time for the men's volleyball team to play since 1977.