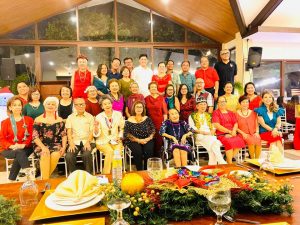 The first ever Christmas get together of the Datu Bago Awardees (from 1969-2019) was held on December 5, 2019, at the Borromeo family's Casa Vieja in Juna Subdivision, Matina, Davao City.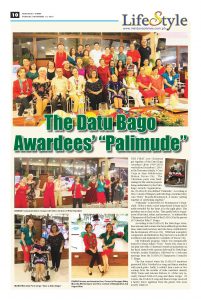 The Christmas party cum fund-raising for the various projects being undertaken by the Datu Bago Awards Organization, Inc. (DABAOI) was dubbed "Palimude." According to Hon. Consul of Hungary and Datu Bago Awardee Mary Ann "Baby" Maceda-Montemayor, it means "getting together or celebrating together."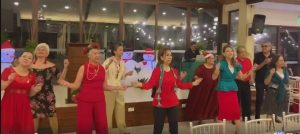 "Palimude" is dear Baby M. Montemayor's brainchild. "Baby is truly a most empowered woman and is multi-awarded for her heart is in the right place. Her priorities are as clear as day. This gentle lady is as generous of her time, talent, and resources," so admired the Chairperson of the Board of the DABAOI in the person of Councilor Pilar C. Braga.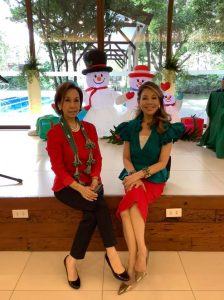 According to the DABAOI, the Datu Bago Awardees are men and women who have selflessly given their time, talent and resources and who have contributed to the development of Davao City. With their exemplary competence and dedication, they best serve as model of excellence and inspiration to residents of Davao City.
The Palimude program, which was energetically hosted by Maria Julieta "Tisay" Torres who came in a red pant suit with a Christmas wreath of poinsettias on her head, started with a prayer delivered by Datu Bago awardee Amelia Bonifacio; followed by a welcome message from the DABAOI Chairperson Councilor C. Braga.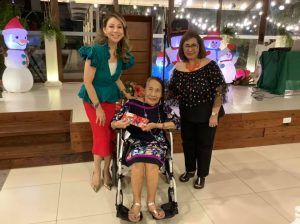 The fun started when the DABAOI members presented Feliz Navidad in a song and dance number with much gusto. Sadly, I couldn't hear a note or two coming from the mouths of male members namely Willy Torres and Antonio Partoza, Jr. of the very recently formed DABAOI song and dance troupe. Of course, the DABAOI song and dance troupe received a hearty bravo applause from the guests who were mostly relatives.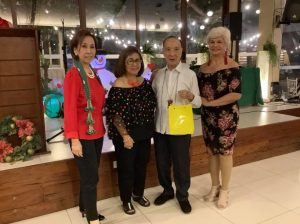 The buffet tables were loaded with various delicious salad, soup, entrees and desserts catered by no less than dear Consul Baby's Villa Margarita's Catering Service. How I missed chef Baby's delicious food prepared from the heart.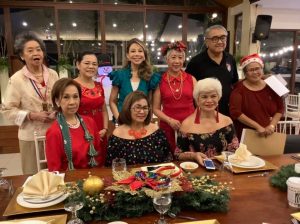 During dinner which, naturally, came with the accompanying updating of events on one's life, there were raffles and games to enjoy as well. The most senior Datu Bago Awardees led by Antonio T. Uy, tito Chiching Rodriguez (who came accompanied by loving daughter Ling Rodriguez), tita Charita Puentespina, among others, were also given their due recognition and gifts.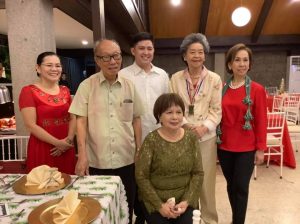 A surprise number that night, which even host Tisay Torres didn't know about, came from Datu Bago Awardee Aida Ford who sang her own composition, "Ako si Datu Bago." After Aida Ford sang her last note much like an opera diva, Datu Bago Awardee Amy Cabusao and I sang our own version of "Joji Bian, ang ngalan ko" to the same tune which, of course, thrilled the ageless fashionista, an educator and businesswoman Purita Arsenia "Joji" Ilagan-Bian, the Hon. Consul of Bangladesh in Mindanao and a Datu Bago Awardee herself. As expected, JIB's fave fashion icon Alfonso "Boy" Guino-o came in his usual eye-catching Sultan outfit complete with all the fashion accessories, diamond jewelry and his devoted yaya Celine in tow.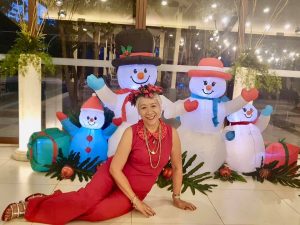 There were about 92 people who expressed their intention of joining the merrymaking. Perhaps owing to the rain, only about 3/4 kept their word.
Nevertheless, the intimate group enjoyed the activities which ended with the guests dancing; and yes, karaoke singing. It was a happy night to remember. Photos from FB posts of Mary Ann Montemayor, Jojie Ilagan Bian, Pilar Braga and Aines Yamanouchi