Over the past decade, Davao City has again seen a huge influx of migration from all over the country; most migrants come from Metro Manila and other large cities in the country. Owing to the perceived quaintness of Davao and the rich natural resources, more people get attracted to settle here. But as we now see, the density of the population in the city is slowly turning the quaint Davao City into a bustling metro. And sadly, environmental challenges are rising consistently; and let us not forget the cutting of trees just because there are improvements to be made in infrastructures.
People want to move to a place where the air is cleaner and the quality of life is better – 'close to nature and clean.' Others even want to move to a place near a forest. Still another group feels hopeless about the world and so they want to build spaceships that can save them from the destruction of the Earth and tuck them safely in Mars."But back there where it has become dirty, who is to clean it up? Others?" I am quoting Anastasia, the heroine of the book series Ringing Cedars of Russia (Book 3 – The Space of Love). She goes on: "There is no need to go live in a forest… after all, the place where you are living now – all that, was once a forest too, planted by the Creator." I now want to ask the same question to those who want to move to places because they feel that it is cleaner than where they are currently residing.
I have heard of stories about places currently considered filthy and their past beauty. For example, Pasig River. A legend tells of enchanted water lilies resting on the crystal clear waters of Pasig. The lilies in the river were believed by the folks to be signs of prosperity. A prophecy was also told that once the lilies flow away from the Pasig River, prosperity will be elusive. The legend really caught my interest; I feel that the prophecy is happening until now… perhaps it's high time now that we consciously decide to restore the beauty that was lost?
We can no longer stick to old ways where we move to another place and leave our mess for other people to take care of. Even if we move to the forests – and even to Mars – but retain that destructive way of thinking, it will still be the same. We will still end up polluting the water, denuding the forests, and destroying the beautiful things. Only through conscious awareness towards all the other living things can we make the place where we are currently living, a little Space of Love.
What do these environmental problems actually tell us? It is telling us that we are now being called to step up and be better than humans who actually care for everything that is created by the Divine. Our belief in God, or Allah, or the Divine, or the Universe, must be fully expressed in our way of living. In the way, we commune with the rest of the creations. Otherwise, this belief will only be a mere blabber.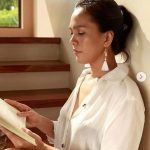 Joan Mae Soco-Bantayan is a teacher at Tuburan Institute, Inc. She is also a wife and a mother of two. For questions and comments, feel free to drop her an e-mail at joanmae1212@protonmail.com or visit her Facebook page, Joan Mae Soco.