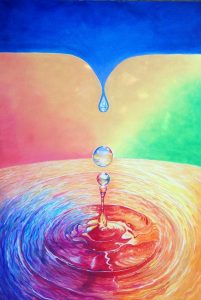 I have a personal belief that art appreciation is not only confined to fine art theory.  Every person has their own instinctive appreciation in art: each has their personal choice of colors, shapes, and their own interpretation of images. People can also relate artwork to their situational reality or their experience in life. This belief is what fueled the competition Colors for Peace.
Last November 23, 2019, Colors for Peace, a painting competition, opened at Felcris Centrale art space. As an organizer of the competition, I offered an artist's prayer in Cebuano followed by the national anthem as led by Lykka Pinoon. Dinky Munda, head of Tabula Rasa, also shared a short speech. Mrs. Irene 'Inday' Santiago of Peace Economy (a program headed by Mayor Sara Duterte), recited the famous song of John Lennon's Imagine; while the Magallanes Elementary School Art Club gave ukelele renditions of the Abba's song I have a dream.
The Competition
The competition's unique feature was the people's choice: guests were asked to pick 10 kernels of corn and use these as points to paintings they liked. I let them make their choice without any guidelines or criteria — contrary to the common practice in competitions. Before guests cast their votes, they went around first to view all the paintings. They were given enough time to relate to the paintings. It was wonderful to see them really enjoy this rare opportunity to "judge" paintings. Among the guests were friends of artists, as well as elementary students from Magallanes Elementary School and their parents. And so especially for the kids – who are active members of their school's art club – it was a great exposure in the arts.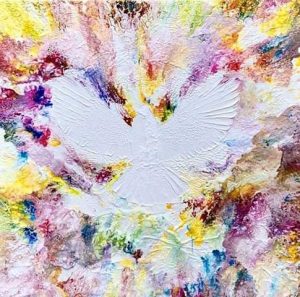 The Winners
Mark Chua won the first prize. Second place went to Fides Baddongon. Shai Ancheta got the third place. Mark and Fides are self-taught painters. Shai Ancheta studied fine arts at the Philippine Women's College of Fine Arts. Amazingly, the works of the three winners passed the criteria of a good painting: Mark Chua's A Life of Peace Is a Life of Color transformed the image of the dove into a spiritual symbol. It was simple yet dimensional in color movement. Fides Baddongon's Drops of Hope, Ripples of Change was a suggestive aspiration of Dabawenyos who long for peace. Shai Ancheta's Obra portrayed a great balance between graceful and tranquil.
Colors for Peace will continue its exhibit with the second opening on Dec. 7, 2019 at Morning Light Gallery. The exhibit will run til Dec. 14, featuring the winners' artworks as well as the works of all the participants. With this exhibit competition, may it be a wonderful beginning for viewers to engage more with the arts – because every person has that innate ability to identify beauty.    By Ega Carreon
Photos of winning pieces: First Prize- Mark Chua, A Life of Peace  is a Life of Color, 24×24 inches acrylic mixed media on canvas. Second Prize: Fides Baddongon, A Drop of Hope, a Ripple of Change, 24×36 inches acrylic on canvas, Third Prize- Color for, Shai Ancheta, Subtle Memory, 18×24 acrylic on canvas.