Pasay City – Five-time PBA MVP June Mar Fajardo took matters into his own hands, Friday night (December 6), steering Gilas Pilipinas to its second victory at the expense of Vietnam, 110-69 at the Mall of Asia Arena.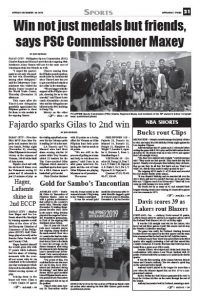 Fajadro stood tall with his six-foot-10 frame over the Vietnamese scoring 23 points and 12 rebounds in just 15 minutes of play as the visiting squad had no answer for the Cebuano pride in trailing 24-16 at the start.
LA Tenorio and Vic Manuel also had their share scoring similar 14 points while Troy Rosario added 12 baskets for the Tim Cone-coached Gilas Pilipinas which assured a semifinal spot in their quest for a SEA Games men's basketball gold medal.
Chris Dierker finished with 28 points on a losing effort for Vietnam as Gilas Pilipinas kept their poise having the lead as much as 44 points.
"We are still in the process of gelling as a team and lucky to win these two games," said Cone in an after game interview.
Fajardo and the rest of team Gilas Pilipinas are playing Myanmar as of presstime.
The scores:
PHILIPPINES 110 – Fajardo 23, Tenorio 14, Manuel 14, Rosario 12, Pringle 11, Slaughter 10, Wright 7, Lassiter 6, Aguilar 6, Ravena 5, Ross 1, Standhardinger 1.
VIETNAM 69 – Dierker 28, Young 13, Tran 7, Le 6, T. Dinh 5, H. Nguyen 4, S. Dinh 3, Vo 2, Du 1, T. Nguyen 0, S. Nguyen 0.
Quarters: 27-19, 52-40, 80-57, 110-69.