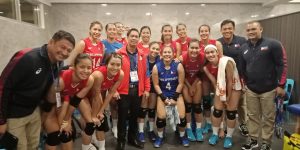 Pasay City – Philippine Sports Commission (PSC) Charles Raymond Maxey bared that the ongoing 30th Southeast Asian Games will not be the only case of winning medals but friends as well.
"I urged the participants to not only win medals but win friendships among other delegates," said the Dabawenyo Commissioner who visited the Media Center located at the World Trade Center, Thursday (December 5) afternoon.
This came after the Timor-Leste delegation gratefully appreciated the Filipinos gesture to cheer for them to win medals in the ongoing Games.
Cheers coming from the Filipino people made so much noise in social medal since Timor-Leste has yet to get a medal and stands at the cellar in the standings.
"We are happy with the support of the Filipino people, cheering for us to win a medal," said Timor-Leste coach Alexandrino Acosta who and the delegation are billeted at the PSC building in Pasig City.
Maxey on the other hand, also took time to watch and cheered for the RP women's indoor volleyball team play against Thailand at the PhilSports Arena in Pasig City that night. The RP women's indoor volleyball team loss to Thailand via a three-set sweep, 25-16, 25-22 and 34-32 for a 0-2 win-loss card in the elimination round.