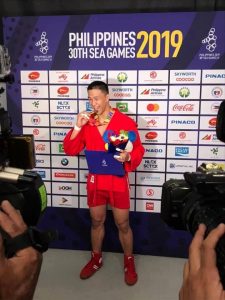 Angeles City – Youthful Chino Sy Tancontian of Pilipinas Sambo came up with a golden performance that added to the country's medal tally, Thursday night (December 5) beating Singaporean favorite Gary Chow in the men's -80kg division played at the Angeles University Foundation gymnasium, in Clark of the ongoing 30th Southeast Asian Games.
The 18 year-old UAAP judo most valuable player and reigning champ hussled the much-seeded Chow via a 4-1 count in the finals to claim his first SEAG gold medal. He tired down Chow to the finish to exact his revenge on the former champion after losing his chances in judo during last year's International Invitational Judo seniors/juniors championship held in Manila.
"I'm proud of him, I'm confident the he can win more as I see in him, he is determined and dedicated during his training," said father and former SEAG gold medalist turned Pilipinas Sambo secretary general Paolo Tancontian after seeing his kid on top of the podium.
Chino's elder sister Sydney Sy Tancontian earlier won the bronze medal in the women's kurash +70kg losing to her Vietnam counterpart.
It was the second gold medal for a Davaoeno after Jezebel Morcillo bagged a gold in women's arnis on Monday, December 2.