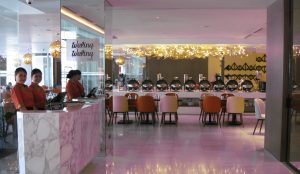 One of the most awaited openings this year-end is that of Acacia Hotel Davao. Mind you, but this hotel finds it important to focus on food, just as well as good facility and the best in service, to offer that unforgettable gastronomic experience to its hotel guests. So who says that all hotel food is bad.
"Just as important as the facilities, amenities, and service of a successful hotel is good food. And the chef is the person who creates the product that will be judged by customers, the very people who will ultimately keep the hotel business afloat. Food and beverage is a huge talking point; and it is one of the Hotel Acacia brand's pillars. F&B is an instrument being used to raise the profile of this hotel. Hotel Acacia Davao, as seen from a culinary perspective, is respectful enough of the rich tradition and the meaning that food has in the Mindanaoan culture. Food is an expression of culture. A big chunk of our clients is domestic," so says Acacia Hotel Davao's friendly Ilonggo F&B Manager, Michael Benedicto Locson. Yes, he is the guy with the responsibility of maintaining the high quality of food and service, food costing, managing the restaurant and bar, among others. A Marketing Management graduate of the University of St. La Salle, F&B Manager Mike has had a long experience in the F&B and hospitality business both here and abroad.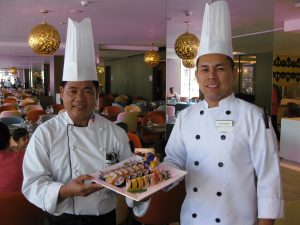 At the Waling-Waling Cafe, one can indulge in its signature local cuisine and regional classic dishes like crispy pata and gambas al ajillo; as well as the Pinoy's favorite American prime cut of rib-eye steak, baby back ribs, Acacia Burger and prawn thermidor, just to mention some of its gastronomic delights. Yes, Waling Waling Cafe offers Asian fusion with its Chinese, Spanish, Malay, Indian, Japanese and American influences as well as our own indigenous dishes.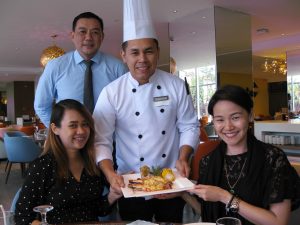 Filipino cuisine is a fusion of cultures that we have brilliantly made wholly our very own. Waling Waling Cafe's best of Filipino delicacies will make you feel right at home. The all-day-dining restaurant with its sleek interior is located on the hotel's ground floor.
"Here at Waling Waling Cafe, we let our food speak for itself. It is like the dishes sing in tune with the key. They have soul in them just like true homegrown meals cooked with such passion by our fine chefs," describes F&B Manager Michael B. Locson.
Waling Waling Cafe's Executive Chef is Mateo D. Ligan who started as a chief cook in Davao City's value for money restaurants like Great Taste Restaurant and Mandarin Restaurant. Chef Mateo has gained experience through the years working in various restaurants and hotel restaurants in Quezon City, Baguio City, Cagayan de Oro City, Olongapo City, Marawi City in the Philippines to as far Dubai and Abu Dhabi of the United Arab Emirates. After his stint in the United Arab Emirates, Chef Mateo has become an expert on spices and Arabian cuisine. "But it's still Filipino cuisine that I'd prefer to cook more than any other dishes," he proudly proclaims.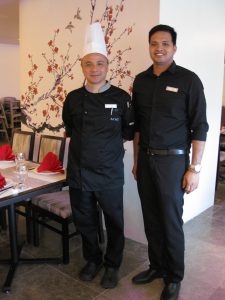 On the other hand, Acacia Hotel Davao's Senior Sous Chef is the personable Ferdinand "Dinan" S. Recaborda who has had military training and is a certified motocross aficionado. Chef Dinan started as a kitchen helper at Marco Polo Davao's Cafe Marco. He was so determined to become a chef that he took bartending, food and beverage services training and commercial cooking with DMMA/TESDA to rise to the position of Cafe Marco Show Kitchen Senior Chef. To further gain his most desired culinary experience, Chef Dinan worked with the Magsaysay Maritime Corporation/Star Cruises, Inc. He also became an instructor at the HRM and Culinary Department of the Philippine College of Technology. Before working for Acacia Hotel Davao, Chef Dinan was head chef of former Executive Chef of Marco Polo Davao Eduardo P. Tuazon's food catering business.
Reliably packed especially on weekends with Davao's prominent Chinoy businessmen diners and, surprisingly, well-heeled Muslim gourmands riding in expensive, luxurious cars is Hotel Acacia Davao's Luk Foo Palace on the third floor. High end Cantonese specialties with distinct and authentic Chinese flavors like hot prawn salad, Kingdao spareribs with salt and pepper squid, steamed crystal prawn with egg white sauce, special cold cuts combination (Peking duck, pork liempo, chicken, asado, seaweeds and century egg), steamed Lapu-Lapu in soy sauce, rainbow style duck with veggies, sauteed scallops with prawn balls, deep-fried taro puff plus noodle dishes, dumplings and siomai are the best you will ever taste in Davao.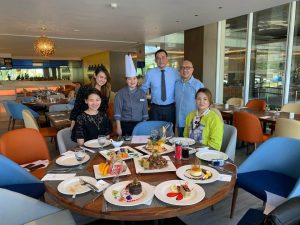 Luk Foo Palace has Du Roy Ji Kwan of Hong Kong for its Chef de Cuisine along with two other Hong Kong cooks. The English speaking chef Du Roy Ji Kwan has worked in respected restaurants and hotel restaurants in Hong Kong, Indonesia, Shanghai and Heibei (China), and Australia before coming to the Philippines in July 2015.
He became the Executive Chef of Fortune Hong Kong Seafood Restaurant, the reputed excellent Chinese food haven in cool Baguio City, where he was tasked to redesign the Chinese restaurant's menu.
"I aim to provide Luk Foo Palace diners with the best quality of Cantonese food," chef Roy promises. When asked what for him is the hardest dish to cook, he answers, "It is always seafood which for me is the hardest to prepare and cook." In my honest opinion, Chef Du Roy Ji Kwan of Luk Foo Palace offers mouthwatering delights that are even tastier than those offered at the Michelin-starred Tim Ho Wan.
Thank you, Acacia Hotel Sales & Marketing Director Cherry Pea Maddela, R&B Manager Michael B. Locson, Chefs Du Roy Ji Kwan, Mateo D. Ligan & Ferdinand S. Recaborda, and Communications Officer Izza Cadiente for the warm Acacia Hotel Davao hospitality.