The City Health Office (CHO) has reported a 99.7% accomplishment in the second round of the 11-day Sabayang Patak Kontra Polio, which will end on Saturday.
But CHO technical division chief Dr. Julinda Acosta said health officials will continue the drive to cover all children.
Acosta revealed that they have already vaccinated 3,877 children since the start of the second round last Nov, 27.
A total of 1,969 children were vaccinated in private hospitals.
The vaccination points in various malls also netted 980 children, while 790 children were vaccinated at the city terminal checkpoints.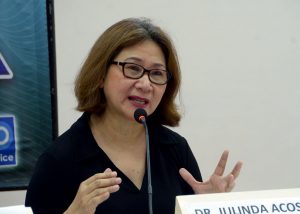 Health officers also vaccinated 138 children in various churches.
"We have been roaming around the city to make sure that we have vaccinated every child," she said.
"If there are those who did not get the vaccination yet, we will go there again to give them the polio vaccine."
Acosta said the coverage figure does not indicate the precise numbers of children in the city because some of those kids were not from the city.
"Some children may be from outside the city. They come here for the vacation. We included them in the vaccination since they also need to be vaccinated," she said.
Acosta reiterated the importance of vaccines for the children.
"It is very important to endorse your children to the vaccination drive. This can prevent your children from acquiring polio. Let your children be protected," she said.
Acosta lauded the barangay officials and district officials for their help in achieving a high coverage.
CHO has announced that the third round for Sabayang Patak Kontra Polio has been moved from Jan. 6 to Jan. 18, 2020 to Jan. 20 to Feb. 2, 2020. This is to ensure that concerned agencies and health workers can have ample time to prepare for the third round.
Acosta has urged parents, guardians, and relatives from all around Mindanao to help their children be protected from the polio virus by bringing them to health workers to receive the vaccination as this has been a Mindanao-wide coverage.