Davao City – Defending champion GJAPS and Lorejo Farms scored contrasting opening day wins at the start of the Uraya Forty's Basketball Club (UFBC) Season 4, Sunday at the Uraya Subdivision covered court.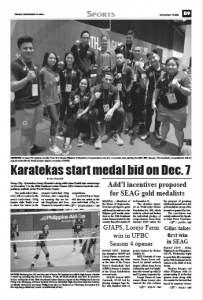 GJAPS bested MDI Carwash, 87-83 led by playing manager Japs Sabio who finished with 14 points backed by Budoy Casila's 13.
MDI Carwash of team owner Doms Recto suffered its initial setback despite efforts from Joven Cabanellas and Joel Mahilum who wound-up with 23 and 22 points, respectively.
Lorejo Farms of team owner Glenn Lorejo also entered the win c
olumn on a 96-74 victory next to Jhem Cuer's CUER Gym with Roy Ociones leading the way with 25 points.
Weng Monterona had 18 while Cuer had 14 on a losing effort.
Games will resume next Sunday at the same venue.