Pasay City – Gilas Pilipinas bested Singapore, 110-58, Wednesday night to open their title campaign int he 30th Southeast Asian Games at the Mall of Asia Arena.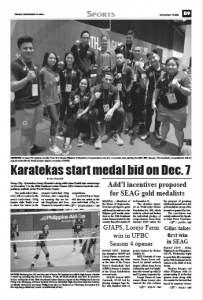 Stanley Pringle led Gilas Pilipinas with 14 points noting 11 in the first quarter alone along with five assists for the host that keyed its runaway victory in Group A in a bid to bag the country's 18th gold medal in men's basketball.
Troy Rosario also had his share scoring 15 points while Vic Manuel and Matthew Wright added 13 and 12 baskets, respectively in what was expected as a one-sided match-up from the start. Rosario also added eight rebounds while Manuel had four boards. Greg Slaughter and Japeth Aguilar also had similar nine points.
Gilas Pilipinas will take on Vietnam on Friday and Myanmar on Saturday.
Leon Kwek had 10 points and five rebounds for Singapor while two-time MVP Wong Wei Long finished with six.
The scores:
Philippines 110 – Rosario 15, Pringle 14, Manuel 14, Wright 13, Fajardo 12, Aguilar 9, Slaughter 9, Stanhardinger 8, Lassiter 7, Ravena 6, Tenorio 3, Ross 0.
Singapore 58 – Kwek 10, Wong ZH 8, Goh 8, Toh 8, Wong WL 6, Lim 6, Raj 5, Rengarajan 4, Liw 3, Low 0, Han 0
Quarters: 30-13, 48-28, 77-48, 110-58