The University of Mindanao Wildcats along with three others completed the Final Four semifinal squads after beating respective foes, Saturday (November 30), in the 2019 Collegiate Sponsors League-Escandor Cup basketball tournament played at the Davao City Recreation Center (Alemendras gym).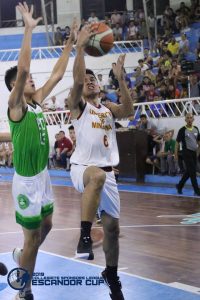 The Wildcats, second seed in Bracket A marched onto the semifinal round after beating Bracket B's third seed Brokenshire College, 87-66 anchored by spritely guard Karlo Quidlat who finished with 11 points, four rebounds, three assists and three steals that quickly earned him the SPC-Mandarin Player of the Game.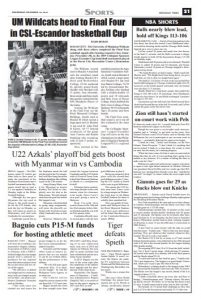 Joining the Wildcats in the Final Four are the Rizal Memorial Colleges Bulldogs, fourth seed in Bracket B which scored a huge upset next to Bracket A top seed St. John Paul II Saints, 83-77 behind co-players of the game Aero Carrera and Ranilo Sendiong who wound-up with 23 and 17 points, respectively.
Also entered in the semifinal round are the Agro Industrial Foundation Sailors, fourth seed in Bracket A which scored a huge upset over Bracket B's top seed Jose Maria Colleges, 76-70 led by forward/center Redyn Arellano who finished with a double-double 23 points and 10 rebounds and Holy Cross of Davao College which drubbed the Holy Cross College of Sasa Spartans, 96-93 on Kenneth Yap's 20 points and three boards.
The Final Four semifinal round is set to tip off this weekend at the same venue.
The Collegiate Sponsors League-Escandor Cup will serve as the city eliminations for the Philippine Collegiate Champions League(PCCL) regional finals.
Photo Cap
Karlo Quidlat finished wth 11 points and four rebounds to lead the UM Wildcats to the Final Four semifinal round at the expense of Brokenshire College, 87-66. (CSL-Escandor Cup photo)