Neophyte Sen. Christopher Lawrence "Bong" Go rushed to the aid of the Philippine Sports Commission and his team performed quite a miracle when it finished a sports venue in record time.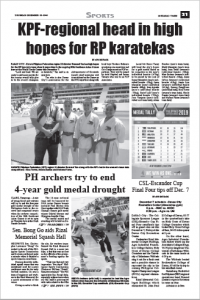 Hearing about the unfinished squash venue that was mistakenly used for a press conference area for the early football matches, Go sent a team of engineers and workers to the Rizal Memorial for a quick assessment of the venue.
Giving an order to finish the site, his workers transformed the Rizal Memorial Squash Hall in a mere two days, a feat that was not lost on the officials of the government's funding agency for sports.
"That was fast and very impressive. Two days!" Philippine Sports Commission Chairman William "Butch" Ramirez exclaimed. "The PSC appreciates Sen. Bong's help, especially at these times when our full staff is preoccupied with tasks related to the SEA Games."
The squash venue was not part of the construction projects related to the biennial meet, however.
"The PSC deemed to construct the squash venue along with the SEA Games venues so that we will finish the rehabilitation of the Rizal Memorial Sports Complex within the year. That was our target," Ramirez said. "Unfortunately, the unfinished venue was used for the press conference and was given negative reviews on social media."
"It pains me to see the PSC, a government agency, being bashed for what is not even a mistake. It was doing its job well and that venue is not even meant for use of the SEA Games," Go said.
"So, I asked friends to help finish the venue, as soon as possible and I am very greatful to them for making this happen," Go added.