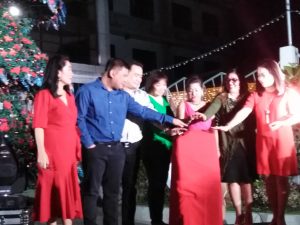 It was a chilly breezy evening outdoors last November 30, when family and friends of the Castaneda family invited us to witness the switching on of the Christmas lights on the tree designed by no less than "Mommy" Linda Castaneda, President of Panorama Summit Hotel.
Relating how she started to design the tree, "Mommy" Linda said the frame was finished alright, but it was bare. So she decided to fly to Manila to do the shopping herself in Dapitan with daughter Fides, Panorama Summit Hotel CEO with her to assist in buying the ornaments she picked out herself. Dapitan, Fides explained, is the shopping area next to Divisoria in downtown Manila where all the items could be found. They then shipped out the boxes to Davao and the tree was decorated with the help of everyone in the hotel staff, from the housekeeping, to the waiters, to the administrative personnel. It was all done as a teamwork that made the tree complete.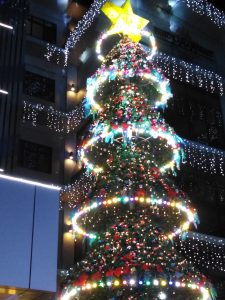 Entertainment was provided by the Himig singers who sang Christmas Carols. Messages were delivered by "Mommy" Linda Castaneda, Fides Castaneda, GeneRose Tecson – Cty Tourism Officer, Al Ryan Alejandre of NCCA. Former Vice Mayor Bernie Al-Ag and wife Cherry Faye assisted in switching on the colorful lights on the tree and the hotel facade.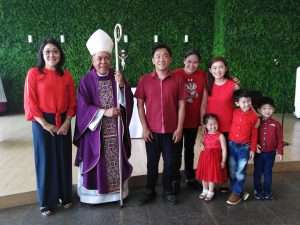 Buffet dinner was served at the seventh floor function room where tokens were distributed to the guests. Media guests included Architect Michaelangelo E. Dakudao, Lovely Boiser, Ace Perez and this writer. Hotel Manager Mae Aranda was a gracious host for the event who welcomed us at the hotel lobby during early evening cocktails at the lobby.