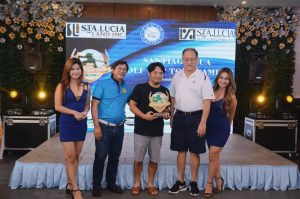 Davao City – Leaning on his steady putts, Jing Tan added another gross title to his cabinet of championships, Saturday (November 30) at the close of the 2019 Santiago Cup Invitational golf tournament at the South Pacific Golf and Leisure Estates in nearby Mintal.
Tan, a 10 handicapper, managed to carved out an 80 for the Class A gross crown leaving past closest foes sportsman-businessman Monchit Mackay via countback and Jing Gavino who finished with a 79 for first and second runners-up.
On the other hand, sharing the limelight in the category's premier cast will be Philippine Airlines (PAL) Interclub golf mainstays Karlos Alba who bagged the overall gross champion with a one-under 71 and Roderick Lo who finished with a 70 for the overall net.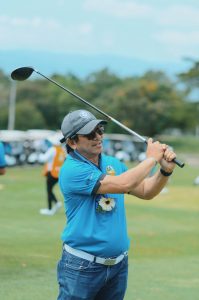 Vicente Santos, president of Sta. Lucia Golf Golf who initiated the traditional ceremonial tee off rites earlier that day awarded the winners with their respective trophies and merchandise.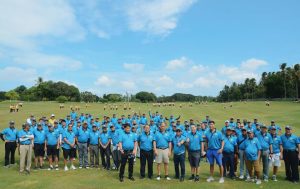 Other winners include Arnold Guerrero 84 – Class B gross champion, Gerry Quintos 87 – Class B gross 1st runner-up, Sim Marfori 90 – Class B gross 2nd runner-up, Ted Valenton 90 – Class C gross champion, Chito Nucum 92 – Class C gross 1st runner-up and Rene Quintanar 92 – Class C gross 2nd runner-up.