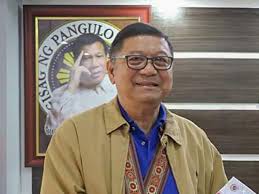 With the country officially pulling back the curtains to welcome everyone to the greatest athletic show in the Southeast Asian region this year – the 30th Southeast Asian Games, I would like to share some thoughts as a 69 year old who has been given the privilege to witness first-hand the, and at times be part of, our colored sporting history.
We will have 11 days of competition, and I can see the 1496-strong Philippine contingent fighting it out with their every breath and exerting their effort to the last drop of their sweat to bring honor to this country, in front of their very own blood and flesh.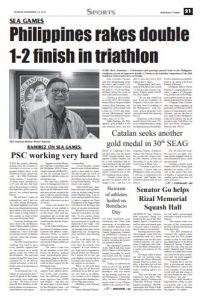 From our forebears who have shown the skillfulness of the Filipino athlete and our natural inclination to being champions, I have faith that our present breed of athletes will also meet their destiny with success.
The PSC board has been working very hard to give every possible support that we can muster as a small agency under the Office of the President.  The men and women of the PSC have been working 24/7 to be able to extend assistance in the different areas of preparation to the Games.
As promised the 5 facilities we promised to host 7 out of 56 sports of the Games were turned over, ready and on time.  We have 8 more (non-SEAG) facilities in different phases of construction, refurbishment and repairs.
Together with the Philippine Olympic Committee and the Philippine SEAG Organizing Committee (PHISGOC), we are all working hard to support the athletes since we started last year.  We may have different styles of management but we have all resolved a long time ago to put all differences aside and move as one, united in the goal to deliver a good hosting and field a delegation that will really showcase our race of heroes.
I know that despite the challenges, it was pushed to have the Games spread out so that more cities and municipalities get involved and benefit from the economic and social benefits that the Games bring with it.
As the Chef de Mission, I have been in constant communication with athletes, teams, officials, NSAs to ensure that needs are met, issues are resolved and that our sincere care for the Filipino athlete are felt and shown.
The same is also true for all members of the PSC board, our doctors, medical team, psychologists, physiotherapists, janitors, facilities team and all others in the PSC solid on their support for the Philippine team.
I have received a lot of support from athletic directors, LGUs and coordinators, the different government agencies like CHED and DepEd — and they are all expecting a good finish for the Philippine team — all these negative reports notwithstanding.
Let us all keep in mind that for some of these athletes, sports is their path to a better life and escape the cycle of poverty and hopelessness.  To all of them, this is their chance to reach their dreams.  They all deserve our support.
Mga kababayan, magkaisa tayo para sa ating bansa, wala na tayong ibang bayan kundi Pilipinas lang.  Can we focus and get united for these 11 days to support our Team Philippines in the biggest fight of of their lives, for honor and glory of our dear motherland.
Parents let us continue to motivate and inspire our athletes.  To our coaches, please continue mentoring, focused on your mission to "polish our diamonds in the rough."  Our athletes, whatever you are going through, know that we are supporting you, recognizing your sacrifices and cheering you on.
Let us all enjoy this experience, for when will we ever have the Games visit us again?  It is our chance to see high-level competition played within our backyard.  So I enjoin all of you, get your flaglets waiving and let us troop to the venues to show our support to our teams.
When we all look back at this, may we all have the confidence to say that we gave our very best, as an athlete, as a worker or as a Filipino cheering on their kababayans.  All for flag and country.
Mabuhay ang atletang Pilipino!
Laban atletang Pilipino!