As the nation commemorates the 156th birth anniversary of revolutionary hero Andres Bonifacio, the Philippine South East Asian Games Organizing Committee (PHISGOC) enjoins all Filipinos to pay tribute to the country's modern-day heroes: our national athletes.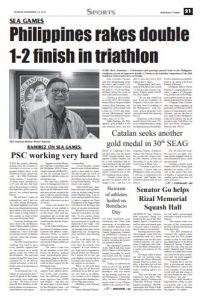 The Opening Ceremony of the 30th South East Asian (SEA) Games will be held on tonight, November 30, which coincided with the annual commemoration of Bonifacio Day.
"Today, we celebrate the birth of one of our greatest national heroes, Gat Andres Bonifacio, who was known for his courage and love for the Philippines. Coincidentally, we also celebrate the heroic feats of our Filipino athletes who continue to raise the country's flag through sports," PHISGOC Chairman and Speaker Alan Peter Cayetano said.
As the committee tasked to take the lead in organizing the biggest SEA games, PHISGOC called for unity among all Filipinos to show support for the athletes who will represent the Philippines in the next 11 days of the Games.
"These national athletes embody the virtues of Bonifacio. They exude courage every time they fight in their respective sports events. And they do so with the goal of bringing honor to the Philippines," Speaker Cayetano said.
"Our athletes are heroes in their own way because of the tremendous pride they bring  to our nation. They deserve all the praise they can get from their fellow Filipinos, especially now that the 30th SEA Games is officially starting today," he added.
Cayetano stressed that the Philippine hosting of the 30th SEA games is an opportunity to honor our athletes and showcase the world-class talent of the Filipinos.
PHISGOC encouraged Pinoys to support the athletes competing in the sports event by watching their games in venues near them. There will be a total of 56 sports and over 500 events that will be held in 58 different venues in Metro Manila, Central and Southern Luzon.
"The athletes , guests and spectators attending the opening ceremonies  will be treated to a display of world-class technology driven and spectacular show that will showcase the best of Filipino performers," PHISGOC said in a statement.
Meanwhile, veteran playwright Floi Quintos in his social media account shared that the "power of spectacle is one that has been used worldwide to further agendas. But it is in the hands of spectacle's creators to patch together some meaning, some cohesion, some message that goes beyond the political