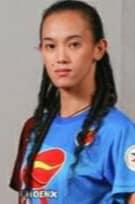 Angeles City – Jezebel Morcillo lived up to her billing as one of the country's best when she, as expected bagged a gold medal in arnis, Sunday night (December 1) played at the Angeles University Foundation gymnasium.
Morcillo, a member of the Kapitrang Doble Olisi Escrima based in Davao City stood on top of the winner's podium after beating Thi Huong Nguyen of Vietnam in the women's live stick bantamweight ( 50kg and less) division finals amidst the partisan crown which cheered wildly for the home team.
She was the lone lady top finisher on opening night after teammate Jude Rodriguez settled for a silver finish in the women under 55kg division.
"She is really a pride of Davao City," said Kapatirang Doble Olisi Escrima chief instructor Mario Palazuelo who personally witnessed the match.
Joining Palazuelo who cheered for the RP squad is Sen. Juan Miguel Zubiri, president of the Philippine Eskrima Kali Arnis Federation who also personally congratulated Morcillo and the rest after their final matches.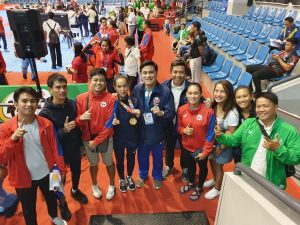 The RP arnis squad tallied four gold medals in the men's division on opening day by Villardo Cunamay, Dexter Bolambao, Nino Mark Talledo and Mike Banares.
As of presstime, the RP arnis squad has a total of five golds, one silver and two bronze medals which add to the country's total of 26 golds, 15 silvers and nine bronze medals.