I was riding a tricycle in Mintal one Friday afternoon, the traffic was heavy. We had to pause by the Davao river where young boys were swimming. Alongside our tricycle was a private school carpool on the way to Deca Homes. What I witnessed after really disturbed me. When the young students onboard the carpool saw the young boys in the river, they began to scowl and shouted expletives. They were calling the boys in the river, "Bayot! F*** you!!!" and other more expletives.
The boys in the river turned to look with surprise. I was half-expecting that they would react to the scowls from the carpool and say nasty words in retaliation but they just looked and returned to what they were doing. Meanwhile, our cabs started moving but the scowls didn't stop until the river was out of sight.
I really found that incident disturbing. It seemed to me that the children inside the carpool have a sense of entitlement that they can do those things to those who are not like them. I know that they come from a private school because their vehicle bears the name of the school. I am in no point of comparison but I am in a point of question. What is going on with our children? Definitely there has to be something deeper than blaming the children and making them at fault. This incident tells a lot on the way this society is raising children. The boys in the river did not at least provoke the children in the carpool. What caused those children to act that way? What was their perception toward other children?
I'll zoom out. Equally disturbing for me is the cheer dance video of the students in UP Visayas where the young people are calling out "Let's kill this President. Charot!" I will not go to my legal questions about this gesture. I'll leave that to the lawyers. My being disturbed stems from the thought that these young people have the thought of killing someone. They do not like the President because he is accused of extra-judicial killings, he takes for granted health care, he takes for granted just wages, and all those things. But then, these students would also like to kill someone – more so, the President. What does that say? They don't like the President because he easily says "Kill," but they also do what the President says. Only that they add "Charot!" to it and the President doesn't.
The Palace, through Presidential Spokesperson Salvador Panelo, says that we should not take those things seriously in the same way that we don't take to heart when the President talks about killing. Now the government has lost its moral ground, it cannot reprimand such acts anymore. And I am equally surprised that the said cheer dance group actually won the competition! It is really sad that we have forgotten how powerful our thoughts are. Just the thought of harm toward others has a tremendous effect.
The incident in Mintal road and the cheer dance competition in UP Visayas vis-a-vis the Palace's reaction seem to be different from each other. But looking at it closer, there is a common thread – our attitude toward our fellowmen. What does this entail? This actually normalizes the thought of killing, of hurting others who do not think or act like us. The tendency to impunity. This is disturbing. We should start asking ourselves if we're really accepting these acts as "normal". We seem to have forgotten that whatever position you have in the society – may you be the President, or a constituent, it is always uncalled for to wish someone harm. It is something we have to take heed now because the younger generation are well on their way those who are ahead of them. We cannot get used to these things. We know better than that.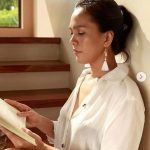 Joan Mae Soco-Bantayan is a teacher at Tuburan Institute, Inc. She is also a wife and a mother of two. For questions and comments, feel free to drop her an e-mail at joanmae1212@protonmail.com or visit her Facebook page, Joan Mae Soco.