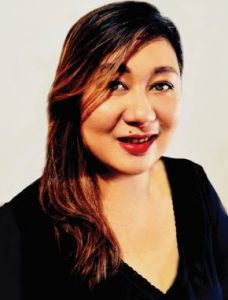 Davao is blest with many artists in different disciplines and we want to know them more than just seeing their works in exhibits or in places where their works are on display or during their performances. This time Tabula Rasa features a unique combo of a mother and son artists Ms. Trixie and Kyle Borbon. Both are active in their fields of interest. Trixie as a visual artist who has constantly shown remarkable maturing in her works and whose pieces has been sought after by art collectors and Kyle now a recording artist and who has won a national competition award. Get to know our Davao artists.
Trixie B. Borbon – Visual Artist
Beatrix "Trixie" Borja Borbon was born and raised in Davao City with parents from Batangas and Bicolandia. As a child she spent her time drawing, painting, dancing and singing. She learned portrait skills firsthand from her mother who also loves to draw and was very patient in teaching her. She wanted to take Fine Arts in college but did not because most people say that "Arts" cannot satisfy one's basic needs. So she took up Bachelor of Science in Business Administration Major in Management instead and graduated in 1991 at Ateneo de Davao University. She landed a job after graduation as a Bank Teller for three years, gave birth to her one and only son Kyle Raphael, who is her inspiration in every artwork she does. In 2013, she was diagnosed with Breast Cancer Stage 2 and while on chemotherapy, she gathered all her art materials, canvas and tried to paint again. She finally found painting back in her loving it more, for it brought her the REAL therapy she needs and she regained her strength through the colors and subjects she was painting. She sold her first few paintings that same year.
She joined her first ever group exhibit in 2014 at Museo Dabawenyo together with United Durian Artsits Inc. From then on, life has changed for her and has brought more meaning to her second life through painting. She has joined numerous group exhibits and in 2018, on her 5th anniversary as a cancer survivor, she had her first Solo Exhibit entitled Hue and I at Abreeza Ayala Mall.
Painting flowers, Mother and Child and portraits gives her joy and calmness. And she is at ease using Acrylic and oil for her medium painted on canvas. She tries to explore other mediums like watercolour, modelling paste and colored pencils. She looks forward and joins art forums
and exhibits because she believes that she can learn a lot from other artists and art groups. She is a core member of Bai Hinang, an all-women Mindanao artist group based in Davao City.
She says, not having a formal training in Art is a challenge, but she enjoys every moment since every failed art is a discovery. She also believes that practice makes perfect because persistence and perseverance is the way to go in the art world.
Kyle Raphael Borbon – Performing Artist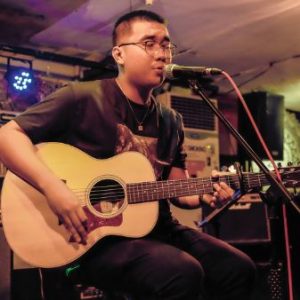 A year ago, Dabawenyo Kyle Raphael B. Borbon bagged the Grand Prize in ABS-CBN's Himig Handog 2018 with his song "Sa Mga Bituin na Lang Ibubulong" interpreted by JM de Guzman and Jason Dy. April of this year, he signed a 5-year exclusive contract with Viva Records then recorded and released his first single entitled Dahil Kailangan Kita, written and composed by him. He said he wasn't expecting this to happen sooner and he is thankful that he is given this rare opportunity.
On November 29, 2019 he is set to release his second single entitled "Buwan Ng Mayo", a song that will be digitally released on Youtube, Spotify and other digital platforms. When asked about the story of his new single Buwan ng Mayo, he says: "Buwan Ng Mayo", I could say is a continuation or a sequel to my Himig Handog 2018 winning song, "Sa Mga Bituin Na Lang Ibubulong". The song was written at a time where I reflected about this bond I had with this girl in where everything seemed perfect, everything we did felt like it could be a movie scene. This connection was everything I could ever dream of and everything I ever imagined; it was pure, it was refreshing but it abruptly ended after only a few months and I was left brokenhearted. Fast forward to 2019, a year and a month after she left, I thought to myself how much I wanted to get that person back and how much I was willing to give just to start things all over again with her but what's the point of all those hoping if that person was probably never meant to stay in my life? That realization sparked my idea for the song Buwan Ng Mayo.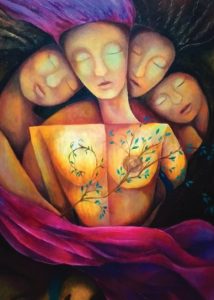 Basically, it is a song about wanting to bring back all the good memories, wanting to feel that person's love all over again and wanting him/her back in your life so much but finally realizing how much of a waste and how devastating it would be if it ended the same way it did before.
Last November 25, 2019, he hosted a Pre-release party for his single Buwan ng Mayo. Attended by music enthusiasts, friends and some of the best talents in Mindanao who gave their support by singing their own compositions namely, Chud Festejo (Phil Pop Grand Winner 2018), Mau Ria (Top 10 finalist of MinPop) and The Big Duo.
TALIPOPART
Nov 22 to Dec 22, 2019 (Mondays Closed)
TalipopArt is an Artists-Run installation show where artists are mimicking a small market (Talipapa)
• It is called an Artists-Run show because the Artists
themselves are the ones who organize and sell their
own works.
• This event is Art Portal's year-end thanksgiving for the
artists in Davao. And a second year of Buy Local Art.
• Artworks worth 5,000 and below
• Paintings, Art Shirts, Art Pins, Painted Bags and shoes,
hand crafts, sculptures, accessories, Prints, Zines, etc.