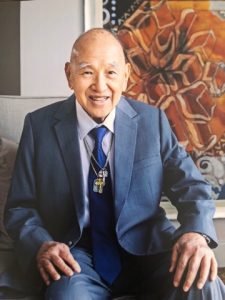 Another golf tournament is added to Davao City's growing golfing calendar as South Pacific Davao Country Club launches on November 30 the Santiago Cua Golf Cup.
According to Peter Lavina, former President of the Davao City Sports Council, the tournament aims to promote golf and sports in general and named in honor of businessman Santiago Cua, Chairman of the Davao New Town Development Corporation, land owner of the sprawling South Pacific Golf Estate Subdivision.
Fondly called Commander by his friends in Davao, Santiago Cua passed away at 94 last year after his regular visit to the city, which he considered as his second home. His first venture in Davao was to acquire lands after the Second World War in Bunawan, Sasa and Chinatown. He is the owner of the Pacific Oil Products, Inc. coconut oil mill located in Bunawan.
He also served as Chairman in both Manila Jockey Club and Philippine Racing Club, two of the country's oldest horseracing clubs.
Lavina said the inaugural tournament is by invitation only and sponsored by Sta Lucia Realty and Development, developer of the subdivision and golf estate located in Catalunan Pequeño.
The tournament will be preceded by the blessing of the South Pacific Golf Clubhouse and will be graced with the presence of members and friends of the Cua family, executives of Sta Lucia, representatives from the homeowners association and invited guests. Various prizes are at stake in the System 36 tournament with invited players coming from Metro Manila, Cebu, General Santos and Davao. It includes a Yamaha two-seater golf cart and a brand new Cobra Iron set with bag at stake as hole-in-one prizes for players who scores a rare ace on designated par 3 fairways.
Tee off time will be at 11 a.m. timely for the awarding rites at 4:30 p.m.
Dignitaries who will initiate the traditional ceremonial tee off rites are Simeon Cua, Vicente Santos, Santiago Cua Jr. Bobby Dy, Joseph Ng, Leo Magno, Anthony Sasin, Conrad Benitez, Renato Dvchangco Jr. Jose Marfori, Fred Pareja and Ten Valenton.